COVID-19 Vaccination for Kids Under 5
Updated 2/2/23
Parenting during a pandemic is no easy feat. But you can rely on our pediatric specialists to help guide you as we all strive to keep your child safe and well. Priority number one: getting kids vaccinated against COVID-19 as soon as they are eligible.
Why Should I Vaccinate My Kid Under 5 Against COVID-19?
"Parents often ask me, 'As a pediatrician, what would you do to prevent COVID-19 if it was your child?'," says infectious disease expert Andi Shane, MD. "I tell them that my child received their COVID-19 vaccines."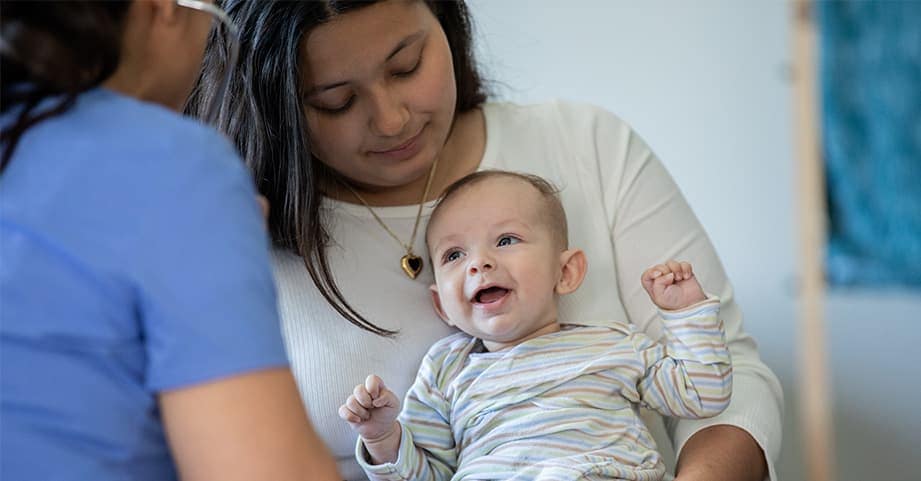 As the COVID-19 pandemic has progressed, we've learned a great deal about this illness, how to mitigate infection and how to best protect ourselves. While there was an early misconception that children were unlikely to get sick with COVID-19, we have seen a significant increase in diagnosed cases, and at Children's, a surge in pediatric hospitalizations during the time that the Omicron variant was circulating. Fortunately, everyone ages 6 months and older is now eligible to receive a COVID-19 vaccine series to get the protection they need.
Vaccines are safe. They are most effective in preventing severe disease and hospitalizations. They protect not only the individual, but also can help protect their community. As we return to activities with friends and families, getting vaccinated is the best way to protect your child. Millions of doses of COVID vaccines have been given to children around the world down to age 5, and thousands of deaths and hospitalizations have been prevented.
Here are 7 important questions parents of young children are asking:
1. Why should I vaccinate my young child?
Although COVID-19 cases are declining, we're not in the clear. New surges and new variants will occur in the future. The best way to protect your children from experiencing a serious COVID infection is to get them vaccinated. Even kids who recover from COVID-19 can experience complications later. This includes long COVID-19 in which symptoms persist after the infection has resolved. Additionally, we have had many children hospitalized with MIS-C (Multisystem Inflammatory Syndrome in Children), a serious complication of COVID-19, in which the heart, lungs, kidneys, brain, skin, eyes or abdominal organs become inflamed.
2. Is the vaccine safe for my baby and preschooler?
Yes, the COVID-19 vaccine series is safe and effective. Every COVID-19 vaccine had to go through a rigorous clinical trials testing process at sites throughout the country, including at Emory and Children's Healthcare of Atlanta. The vaccines must meet stringent safety standards before being authorized or approved by the U.S. Food and Drug Administration. Both the Pfizer and Moderna vaccines for children went through the same extensive authorization process, and testing revealed no safety issues. Millions of doses of vaccines have been given to children around the world with a very low risk of complications. There is a much greater risk of complications from a COVID-19 infection than from vaccination.
3. Can my child receive the COVID-19 vaccine series with their other vaccines?
Yes. The COVID-19 vaccines can be given at the same time or at different times to other vaccines. It's important to talk to your child's doctor about your child's immunization schedule.
4. If I get my child vaccinated now, will they be protected against surges that happen later?
The best time to vaccinate is now so that your child will start to have a chance to develop an immune response before cases start increasing again.
5. If I got the COVID-19 vaccine series while pregnant, do I still need to get my baby vaccinated?
Like other vaccinations given during pregnancy, the COVID-19 vaccine series protects you and your baby. The vaccine builds antibodies that can be passed to your baby, which helps protect them from COVID-19 but this protection disappears by about 6 months of age. At 6 months they are old enough to be vaccinated which will help their immune systems learn to prevent COVID-19.
6. How long should I wait to get my child vaccinated if they recently had a COVID-19 infection?
COVID-19 vaccination is recommended for children who have had COVID-19 once they have completed their isolation period. Vaccination following a COVID-19 infection is safe and is well-tolerated by children.
7. My child will soon have a birthday and will be in a different age group. Should I wait until they are in the next age group to be vaccinated?
It is important to get your child vaccinated for COVID-19 as soon as they are age-eligible. We do not recommend waiting. As with every vaccine, children should receive the dose prescribed for their age at the time of vaccination.
If you have questions or concerns about your child's situation, talk to your pediatrician.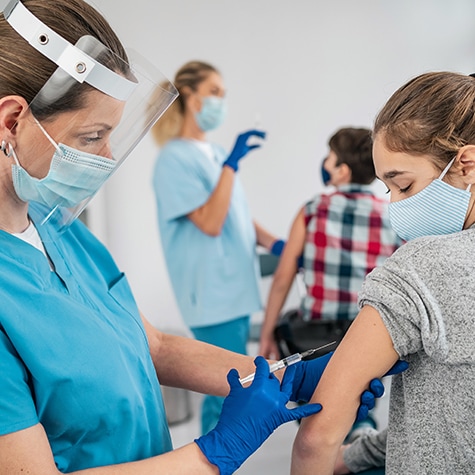 Find a Vaccine
Get Your Child Vaccinated
COVID-19 vaccines for kids under 5 are available at vendor locations and select clinics at Children's. Click to learn more or find a vaccination site near you.
Find a Vaccine
William Linam, MD, a Pediatric Infectious Disease Physician, joined Children's Healthcare of Atlanta and Emory University as Associate Professor in 2017. He completed his internship and residency at Cincinnati Children's Hospital Medical Center, where he also served as chief resident. He remained at Cincinnati Children's Hospital Medical Center for his fellowships in pediatric infectious diseases and quality improvement. Dr. Linam's passion is improving the quality and safety provided to children with a special focus on preventing healthcare-associated infections.
Andi L. Shane, MD, MPH, MSc, is Medical Director of Hospital Epidemiology and Chief of Pediatric Infectious Diseases at Emory University and Children's Healthcare of Atlanta. Dr. Shane completed an Epidemic Intelligence Service (EIS) fellowship at the Centers for Disease Control and Prevention (CDC) and a pediatric infectious disease fellowship at the University of California San Francisco. Dr. Shane has broad experience and interests in the field of pediatric infectious diseases and is committed to the care of children with infections with special pathogens in protected care environments and in hospital preparedness.
This content is general information and is not specific medical advice. Always consult with a doctor or healthcare provider if you have any questions or concerns about the health of a child. In case of an urgent concern or emergency, call 911 or go to the nearest emergency department right away. Some physicians and affiliated healthcare professionals on the Children's Healthcare of Atlanta team are independent providers and are not our employees.