Why Everyone Needs a Flu Shot—Especially During COVID-19
Updated 9/5/23
As we continue to face the COVID-19 pandemic, it's more important than ever for everyone to get a flu shot. Ideally, everyone should get vaccinated by the end of October to help provide protection before flu season begins.
In short, very. Especially this year.
There are many different strains of the influenza virus. Every year, experts work to predict the strains that will be in the community that year. Because these flu virus strains change from year to year, it is important to get the best protection each year with an updated flu vaccine.
Flu can lead to more serious infections, like pneumonia, as well as other complications and even death. "Flu season is unpredictable, especially this year as we continue to face COVID-19," said Andi Shane, MD, MPH, System Medical Director, Infectious Diseases. "The best way to protect yourself and your family from the flu is for everyone 6 months and older to get a seasonal flu vaccine as soon as they become available." Making sure that everyone who is eligible to be vaccinated receives the flu and COVID-19 vaccines is one of the best ways to keep your family healthy.
"It's safe to get both a COVID-19 and a flu vaccine on the same day. Some parents worry about side effects, but if these occur, they are mild," said Dr. Shane, "We have data that receiving both vaccines at the same time also results in good protection."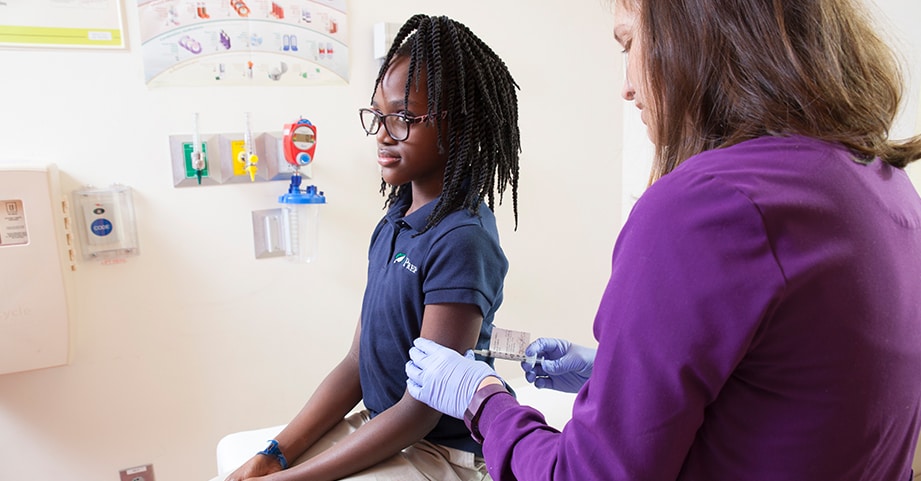 Getting a yearly flu vaccine is one of the best ways to protect everyone.
Flu shots:
Reduce your child's chance of getting the flu and from having a severe flu infection

People who get a flu vaccine have fewer days of symptoms, less severe symptoms and are less likely to need medical care.
Flu vaccination decreases hospitalizations, as well as serious illness and death from the flu.




Protect pregnant mothers and infants in the family.

A 2018 study showed that getting a flu shot reduced a pregnant woman's risk of being hospitalized with the flu by close to half.
Not only does getting a flu vaccine during pregnancy help protect expectant mothers; a flu vaccine during pregnancy, helps to protect babies from flu infection for the first 6 months after birth (when babies are too young to be vaccinated).
All caregivers, friends and family members who will come into contact with you and your infant should be vaccinated. This practice, called cocooning, is a way to help protect vulnerable babies from infectious diseases before they are old enough to be vaccinated.




Help protect other kids and adults who have chronic medical conditions or have compromised immune systems.

Flu vaccination helps reduce everyone's risk of becoming seriously ill, but this is especially important for those who have chronic conditions, like asthma or diabetes.
Vaccination also helps protect children who have compromised immune systems.




Are safe and protect children.

There's been a lot of research on the safety of the flu vaccine. You cannot get the flu from the flu shot

—

it does not cause the flu or any other infection.
An allergic reaction to the flu vaccine is incredibly rare. In the past, having an egg allergy used to be a reason not to get a flu shot, but this is no longer true. The CDC recommends that all children aged 6 months and older, including those with egg allergies, receive an annual flu vaccine. Check with your child's pediatrician or allergist if you have questions about your child's allergy.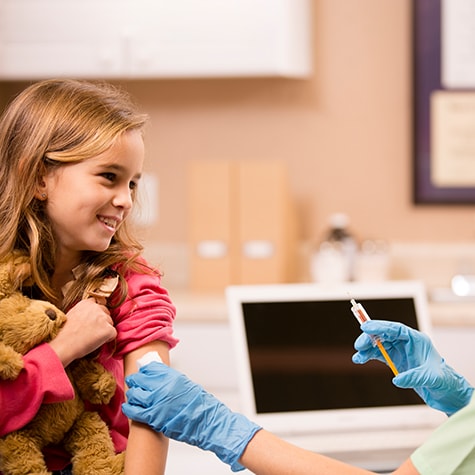 Get the Flu Shot
Schedule your vaccine today.
It's not too late to protect your family. Talk to your child's pediatrician about getting a flu shot.
Helping Parents Take On Flu Season
Andi L. Shane, MD, MPH, MSc, is Medical Director of Infectious Diseases at Children's Healthcare of Atlanta. Dr. Shane completed an Epidemic Intelligence Service (EIS) fellowship at the Centers for Disease Control and Prevention (CDC) and a pediatric infectious disease fellowship at the University of California San Francisco. Dr. Shane has broad experience and interests in the field of pediatric infectious diseases and is committed to the care of children with infections with special pathogens in protected care environments working with children's hospital preparedness teams.
This content is general information and is not specific medical advice. Always consult with a doctor or healthcare provider if you have any questions or concerns about the health of a child. In case of an urgent concern or emergency, call 911 or go to the nearest emergency department right away. Some physicians and affiliated healthcare professionals on the Children's Healthcare of Atlanta team are independent providers and are not our employees.