Setting the Record Straight: Kids and COVID-19
Updated June 23, 2022
Get the truth about how COVID-19 is impacting kids and why vaccination is more important than ever before.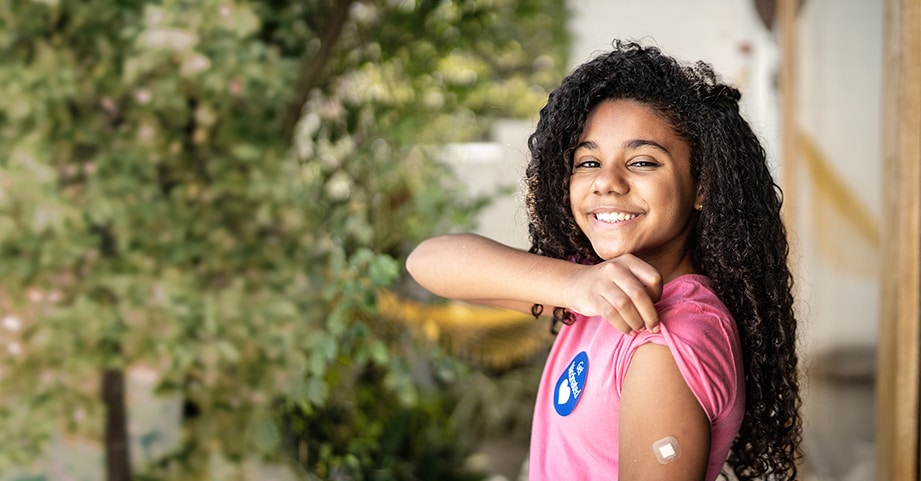 What Parents Need to Know About COVID-19
Parenting during a pandemic is all-new territory. And unfortunately, it looks like the COVID-19 virus is going to be with us longer than expected, with surges and declines in cases happening regularly. The good news is that the longer the virus persists, the more we learn about how to adapt and cope with COVID.
What we know for sure: the best way to protect our kids and ourselves from a serious COVID-19 illness is for everyone who is age eligible to get vaccinated and boosted. To help explain why this is so important, we asked Children's physicians to set the record straight on some of the most common myths and misconceptions about the virus, vaccines and variants.
FACT 1:
Kids are getting sick from the COVID-19 virus.
When the pandemic began, kids seemed to be less likely to contract COVID-19. If they were infected, most kids experienced only mild illness. However, that has changed as the pandemic has progressed.
"In some ways, kids were largely spared from the initial wave of COVID-19 because of their limited interactions with others during isolation last year," explains infectious disease specialist Matthew Linam, MD. "But as time has passed and more data has been collected, studies have shown that children and adolescents have rates of infection as high as adults—and in some cases, higher."
With the extremely contagious Delta and Omicron variants coupled with an increase in travel, social, extracurricular and school interactions, the number of COVID-19 cases among kids is growing.
Although most kids will experience only mild symptoms, some can become seriously ill. Hospitals across the country, including Children's, have seen a surge in pediatric hospitalizations in recent months. Children who recover from COVID-19 can suffer complications, such as long COVID, with lasting symptoms of the virus (headache, shortness of breath) that can persist after the infection is cured.
FACT 2:

Vaccines provide protection against severe illness.
Vaccination is the No. 1 way to reduce the risk of contracting COVID-19. "Ninety-eight percent of children who have been hospitalized at Children's since vaccines became available to children 5 years of age and older have been unvaccinated. Some due to the fact that they are too young to be eligible, but most because they have opted not to be vaccinated," says infectious disease specialist Andi Shane, MD. Since we still don't know the long-term effects of being infected with COVID-19, Shane says the benefits of vaccination far outweigh the risks.
FACT 3:
Healthy people should still get a COVID-19 vaccine series.
Everyone who is eligible should get vaccinated, even if they are healthy.
Many younger children aren't yet eligible to receive the vaccine, so it's up to the rest of us to protect them. Vaccinating all eligible family members, masking up, washing hands, and limiting large social interactions can help keep us from passing the virus on to our kids.
"Sixty years ago, I would have had patients who had polio," says Mark Griffiths, MD, Medical Director of the Emergency Department at Children's at Hughes Spalding Hospital. "I've been in practice for 15 years and I've never taken care of a patient with polio. And that's because people took their vaccines. We have an opportunity to do that with COVID-19. We can keep this virus in check if everybody takes the responsibility to do their part and get vaccinated."
The alternative is more variants and more infections. "Variants will keep evolving as long as we don't have the virus under control," says Dr. Griffiths. "If you're unvaccinated, you essentially act as a host and could be allowing the virus to replicate and potentially create more resistant virus strains. As more and more people are vaccinated, the virus will have fewer people to infect, and community transmission will go down."
FACT 4:
Even if you've had the COVID-19 virus, you still need to get vaccinated.
Recent studies have shown that just because you had COVID-19 in the past and recovered does not mean you are fully protected from getting the virus again. COVID-19 vaccines offer a greater length of protection than your natural immunity.
FACT 5:
COVID-19 vaccines were developed with safety checks in place.
Every COVID-19 vaccine had to go through rigorous testing and meet stringent safety standards before being authorized (Moderna and Johnson & Johnson) or approved (PfizerBioNTech) by the U.S. Food and Drug Administration (FDA). And although vaccines were available quickly, the science behind these vaccines had been studied for decades before the COVID-19 pandemic.
It was the collaborative effort among scientists and physicians around the world, including our own doctors at Children's, that helped make rapid development possible. Millions of people worldwide have been safely vaccinated against COVID-19 with only mild side effects. "Any mild symptoms you may experience after receiving the vaccine, such as headache, muscle pain or fatigue, is a sign that your body's immune response has been triggered in a good way," explains Dr. Linam.
FACT 6:
Serious side effects from the vaccine are rare.
The most common serious side effect of the mRNA vaccines is myocarditis or inflammation of the heart. But this condition is exceedingly rare. Out of 300 million vaccines given, there have been just over 1,900 confirmed cases of myocarditis reported; most of these cases were mild with the symptoms resolving with just pain medicines. Individuals, including children and teenagers, are much more likely to have inflammation of the heart after having COVID-19 than after receiving the vaccine.
"Millions of people have been vaccinated worldwide, and reports confirm that serious side effects are extremely rare," says Dr. Linam. "The risks of medical complications from having a COVID-19 infection are much greater than the risk of side effects from the vaccine."
FACT 7:
COVID-19 vaccines do not affect fertility.
There is no reason to believe that any vaccines, including COVID-19 vaccines, cause fertility problems in women or men. Studies have shown that getting vaccinated for COVID-19 has no negative impact on pregnancy and does not cause miscarriages.
In fact, like other vaccinations given during pregnancy, the COVID-19 vaccine is protective for mother and baby, according to Dr. Linam. The vaccine builds antibodies can be passed to your baby, which helps them have immunity against the virus once they're born.
Alternatively, there has been an increase in pregnant, unvaccinated women having serious complications after getting sick from a COVID-19 infection.
FACT 8:
Vaccines will not give you COVID-19 or change your DNA.
Two of the COVID-19 vaccines—Pfizer and Moderna—are messenger RNA (mRNA) vaccines that tell your body to make antibodies that can protect you from becoming ill. The vaccine does not interact with your DNA. COVID-19 vaccines also do not contain a live virus, so they cannot cause an infection or a positive result on a viral test.
FACT 9:
The vaccine is free and readily available.
The COVID-19 vaccine series is now approved for children aged 6 months to 17 years old, and at no cost. Additionally, it is important for age-eligible children to be boosted.
If you have questions or concerns about getting your child vaccinated against COVID-19, talk to your pediatrician.
Parenting During a Pandemic: Children's Can Help
William Linam, MD, a Pediatric Infectious Disease Physician, joined Children's Healthcare of Atlanta and Emory University as Associate Professor in 2017. He completed his internship and residency at Cincinnati Children's Hospital Medical Center, where he also served as chief resident. He remained at Cincinnati Children's Hospital Medical Center for his fellowships in pediatric infectious diseases and quality improvement. Dr. Linam's passion is improving the quality and safety provided to children with a special focus on preventing healthcare-associated infections.
Andi L. Shane, MD, MPH, MSc, is Medical Director of Infectious Diseases at Children's Healthcare of Atlanta. Dr. Shane completed an Epidemic Intelligence Service (EIS) fellowship at the Centers for Disease Control and Prevention (CDC) and a pediatric infectious disease fellowship at the University of California San Francisco. Dr. Shane has broad experience and interests in the field of pediatric infectious diseases and is committed to the care of children with infections with special pathogens in protected care environments working with children's hospital preparedness teams.
Mark Griffiths, MD, is an Emergency Medicine Physician and Medical Director of Emergency Services at Hughes Spalding. He completed his residency at Cincinnati Children's Hospital Medical Center and his fellowship at Emory University School of Medicine. Dr. Griffiths has been in practice for over 10 years.
This content is general information and is not specific medical advice. Always consult with a doctor or healthcare provider if you have any questions or concerns about the health of a child. In case of an urgent concern or emergency, call 911 or go to the nearest emergency department right away. Some physicians and affiliated healthcare professionals on the Children's Healthcare of Atlanta team are independent providers and are not our employees.