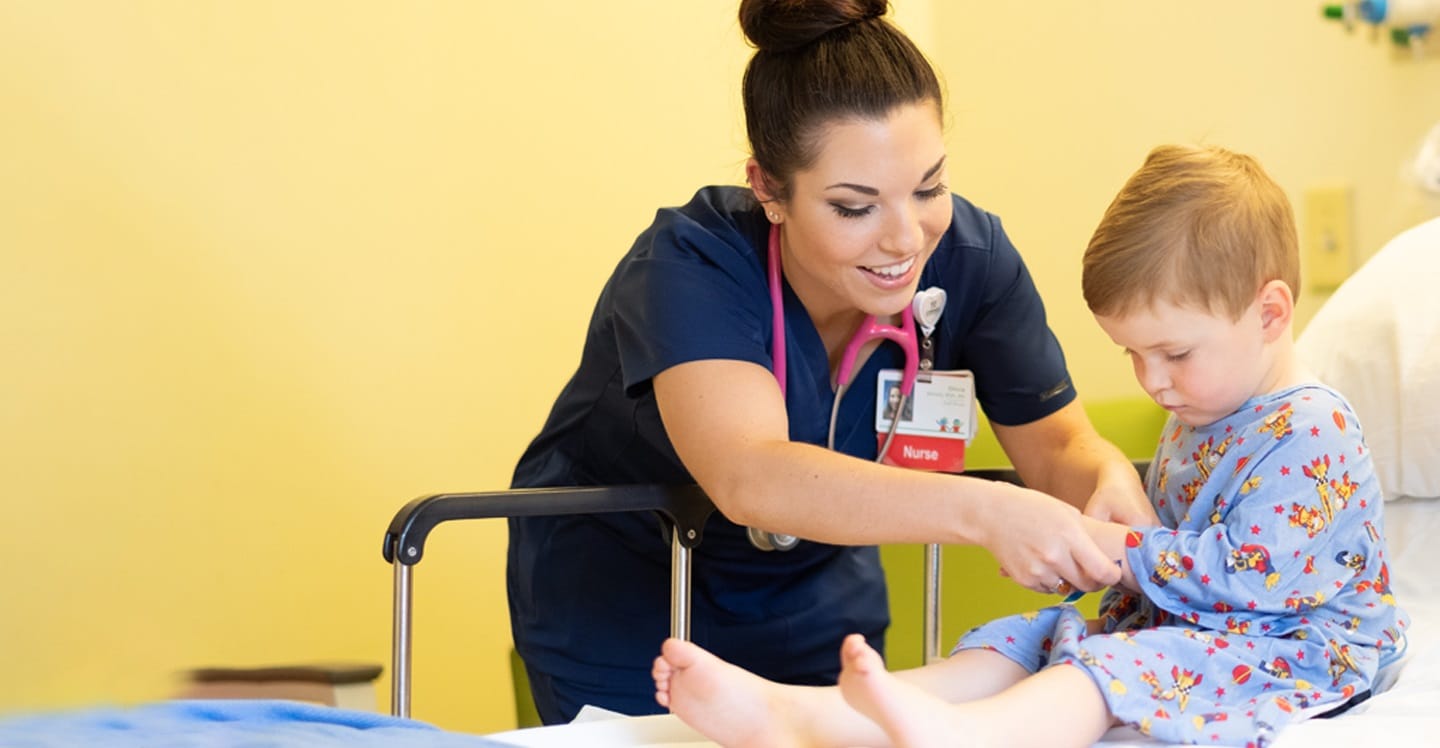 Plastic surgery is a medical procedure that may involve the restoration, reconstruction or alteration of the human body. Your child may need plastic surgery to treat a deformity caused by a birth defect, injury, illness or tumor. This may include ear deformities, birthmarks, lumps and bumps, facial fractures, vascular malformations, and rare craniofacial disorders.
The plastic surgery and craniofacial disorders team at Children's Healthcare of Atlanta treats many issues that can affect a child's appearance and well-being, and they have the team has the experience and qualifications to treat your child.
What conditions require plastic surgery?
Aesthetic problems
Burns and scars
Congenital nevi
Craniosynostosis
Cysts
Disorders of the jaws
Facial trauma and fractures
Facial nerve disorders
Gynecomastia
Pigmented lesions or birthmarks, including dysplastic nevus, giant congenital nevus and nevus sebaceous
Pyogenic granuloma
Rare craniofacial syndromes
Torticollis
Vascular malformations
At Children's Healthcare of Atlanta, we provide comprehensive care, including evaluation, diagnosis, management and treatment of children with a variety of conditions that may require plastic surgery.
What procedures do we offer patients who need plastic surgery?
Aesthetic surgery
Bone distraction, including the use of resorbable materials
Distraction osteogenesis
Endoscopic surgery
Facial reconstruction
Laser surgery
Mandibular distraction
Pre-prosthetic surgery
Nasal alveolar molding (NAM) for cleft lip and palate repair
Surgery on the jaw
Oral and maxillofacial surgery
Our oral and maxillofacial team treats a wide range of conditions that affect the mouth, jaw and facial structures in children, teens and young adults, including:
Facial trauma and fractures
Jaw deformities
Maxillofacial infections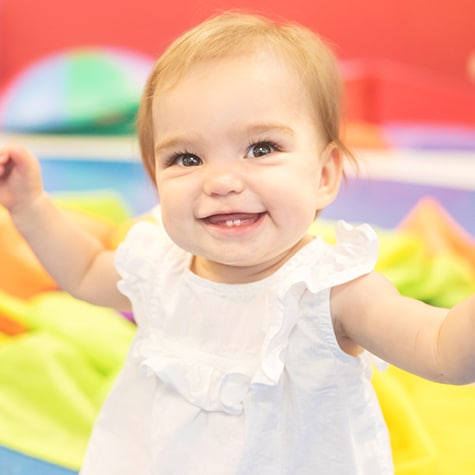 Treating Torticollis
Minimally invasive torticollis treatments
If nonsurgical torticollis treatments don't work, reconstructive surgery may be needed. Torticollis is progressive and will become more severe with age, so it's important to get your child treated early on.
We offer a wide range of programs for patients who are undergoing plastic surgery and need to be treated within a specific clinic or center.
What plastic surgery programs do we offer?
Center for Cleft and Craniofacial Disorders: This center offers a multidisciplinary approach to evaluating and treating children with craniofacial conditions.
Facial trauma and reconstruction: From diagnosis through surgery and follow-up care, our team treats children who have congenital or acquired facial nerve disorders and facial fractures. Our pediatric-trained plastic surgeons use special techniques to help lessen scars and shorten recovery periods. We offer rhinoplasty, mandibular and maxillary reconstruction, and maxillofacial surgery to correct facial fractures and contour bones.
General plastic surgery: We provide care to children who have acquired or congenital (present at birth) problems that may impair functions or affect physical appearance, such as congenital nevi, skin tags, burns and scars.
Post-operative reconstructive surgery: Our pediatric plastic surgeons provide post-operative reconstructive surgery to restore a child's mobility, functionality and appearance.
Vascular Anomalies Clinic: For children with complex vascular anomalies, we offer a multidisciplinary, personal approach to treatment. This is the only clinic of its kind in the Southeast.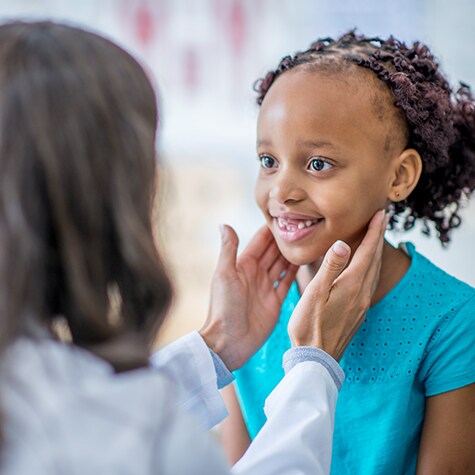 Facial Fractures
Early evaluations can help prevent long-term issues
Some of the most commonly occurring injuries to the face are broken noses, broken jaws, and fractures of the cheek bone and eye socket. These injuries are important to have evaluated because they can lead to facial deformities if they don't heal properly.
Plastic surgery is more popular than ever, and parents are often bombarded with confusing messages about their choices when seeking a plastic surgeon for their child. Many providers make extravagant claims or offer deals that seem too good to be true. In the flood of information, it can be difficult to determine who to trust.
What should I look for in a pediatric plastic surgeon?
At Children's, we believe these are some of the most important things parents should look for in a plastic surgeon:
Board certification: The term "board-certified" carries a great deal of weight in the medical profession, but when it's misused, it can often be misleading. The American Board of Plastic Surgery (ABPS) is the only organization recognized by the American Board of Medical Specialties (ABMS) for certifying plastic surgeons in the U.S. The ABPS helps make sure certified plastic surgeons adhere to the highest standards of patient care and safety.
Hospital privileges: Not all plastic surgeons have privileges at pediatric hospitals. They sometimes perform procedures under less than optimal conditions. While certain procedures can be safely performed in an office setting, making sure that your plastic surgeon has privileges at an accredited pediatric hospital ensures that issues can be fully addressed appropriately, and in a timely manner and child-friendly environment.
Experience and recognition: Often, the best way to determine the skill of a plastic surgeon is to find out how the surgeon is regarded by their peers and patients. Look for a doctor who is a member of highly regarded professional organizations, has published articles in peer-reviewed medical journals and is sought out as an expert instructor in the field.
Plastic surgery is not something that should be taken lightly, especially when it comes to your child. Rest assured that all of our pediatric plastic surgeons are board-certified in plastic surgery and have hospital privileges at Children's. A pediatric anesthesiologist is also guaranteed for your child's surgery at Children's.
Children's Physician Group–Plastic Surgery and Craniofacial is the largest and most experienced pediatric plastic surgery and craniofacial team in the Southeast. Our pediatric plastic surgeons are specially trained and experienced in caring for children of all ages, from babies to young adults. Our team also collaborates with Emory University School of Medicine and Georgia Institute of Technology to leverage research to help maximize each child's quality of life.
Children's Physician Group–Plastic Surgery and Craniofacial surgeons
Oral and maxillofacial surgeons
Our team includes pediatric oral and maxillofacial surgeons, as well as dentists and oral pathologists. We work together, and with other specialists as needed, to provide diagnostic, restorative dental and maxillofacial surgical services to children and teens. Our team also offers:
Consultation on oral or facial lesions.
Complete evaluation and treatment of congenital deformities, such as cleft lip and palate, and craniofacial deformities.
Complete evaluation and treatment of traumatic deformities, such as midface and mandibular (jaw) fractures, and soft tissue facial trauma.
Evaluation and performance of orthognathic (corrective jaw) surgery.
Private practice physicians in our Plastic Surgery Program
We also work closely with private practice pediatric plastic surgeons to lead research, develop specialized programs and deliver seamless care to patients.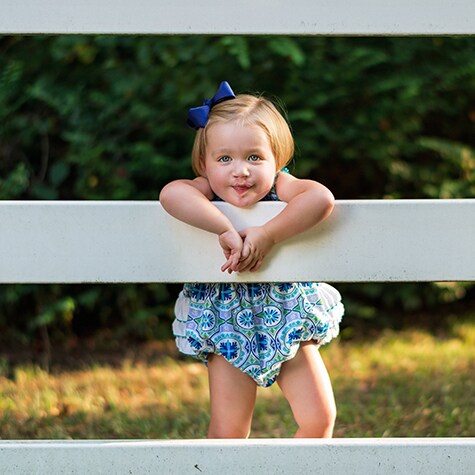 Leaders in Pediatric Research
Our team is actively involved in pediatric plastic surgery research
We know that in order to continue to improve quality and outcomes for our pediatric patients, we must be actively seeking better ways to perform surgeries. One of our most recent initiatives is the enhanced recovery after surgery (ERAS) principles for cleft lip and palate patients.
Learn More