The Aflac Cancer and Blood Disorders Center of Children's Healthcare of Atlanta offers a Sickle Cell Disease Pain Treatment Program for children and teens with sickle cell disease once a month at all three of our Atlanta hospital locations. The goal of the program is to treat patients by reducing their pain as much as possible, helping them function at their best and avoiding side effects.
Our team includes sickle cell disease physicians, advanced practice providers, registered nurses, behavioral health specialists and psychologists, who all specialize in treating chronic pain.
Each visit takes about two hours, and we meet with patients and their families to learn about:
Where on a patient's body they are experiencing pain.
What makes a child or teen's pain better or worse.
How a patient and family are reacting to a child or teen's pain.
Whether the pain is interrupting everyday activities and goals for a patient and their family.
Our team also works together to:
Develop treatment options that help a patient feel better, as well as lengthen the amount of time between pain episodes.
Start behavioral or physical therapy treatments, when appropriate.
Instruct you or your child or teen about how to use opioid pain medicines safely.
Develop a Pain Action Plan for you and your child or teen.
Inform your child or teen's sickle cell disease care team about treatment recommendations.
A Pain Action Plan lists the medicines and non-medication treatments that work best to relieve your child or teen's pain. When she is hospitalized for pain, our Emergency Department staff and care team will be able to follow the Pain Action Plan. They will also be able to discuss her care with someone from the program, as well as speak to our anesthesiology pain services team.
Some children and teens have sickle cell disease pain that is severe; therefore, they have difficulty getting pain relief. Many factors can make it hard for pain to go away, such as:
Damage to bones, organs or nerves.
Muscle tightness around painful areas.
Stress.
Mood changes in response to pain.
Common pain medicines like ibuprofen or opioids may not work well to relieve your child or teen's severe or chronic pain. If this is the case, you may want to schedule a consultation with our team if your child or teen is having trouble with:
Frequent pain episodes.
Long hospital stays.
School or work absences because of pain.
Severe or chronic pain—having pain 50% or more of the time for the past six months.
At the Aflac Cancer and Blood Disorders Center, we take a multidisciplinary approach to care so we are focused on taking a whole-person approach to caring for children and teens with sickle cell disease by also treating a patient's mental and emotional well-being. We look closely at all aspects of the pain and how it affects a child or teen's quality of life, school experiences and familial relationships.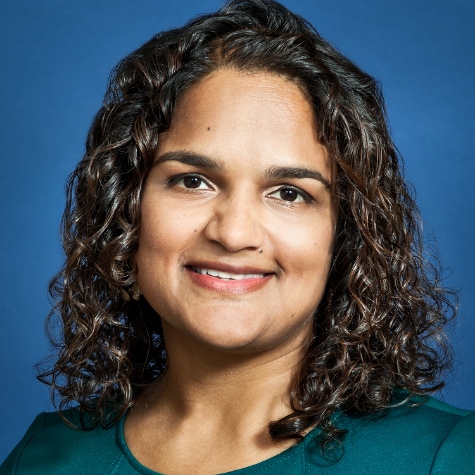 Chronic Sickle Cell Pain
Developing a Culturally Relevant Chronic Sickle Cell Pain Intervention
Children's Pediatric Psychologist, Soumitri Sil, PhD, received NIH funding to develop and test a new multicomponent integrative pain management intervention for adolescents with chronic pain related to sickle cell disease, which primarily affects Black and African Americans.
Learn more
Hematologists
Psychotherapist
Psychologist
Nurse practitioners
Lindsey Jacobs, NP
Caylin Parker, NP
Tara Santee, NP
Tina Taylor, NP