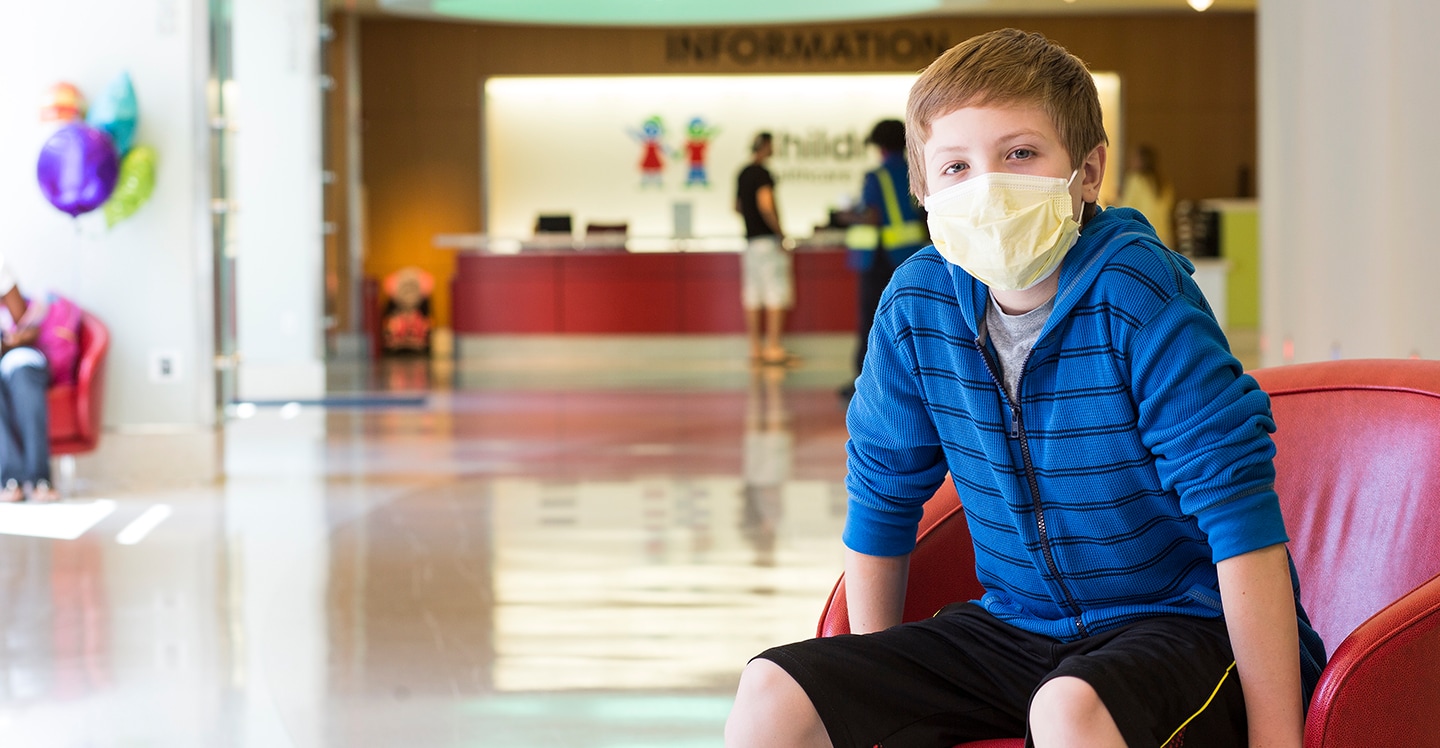 COVID-19, or SARS-CoV-2, is a new coronavirus that first began affecting people in 2019 and has quickly spread worldwide. As scientists and public health agencies continue to monitor and learn more about this novel virus, it is important to be informed and stay updated.
Most children with COVID-19 have mild symptoms or no symptoms at all. However, some children can get severely ill from COVID-19, especially babies under 1 year old and children with underlying medical conditions. In the event that a child presents with a known or suspected COVID-19 infection, Children's Healthcare of Atlanta is prepared to support diagnosis and management according to Centers for Disease Control and Prevention (CDC) guidelines.
COVID-19 Resources for Families
Children's urgent care centers
PCR rapid COVID-19 testing is offered at Children's Urgent Care Centers. For testing to occur, patients must be medically evaluated by a Children's Urgent Care provider as part of an urgent care visit. PCR tests are performed during the patient's visit and results are provided the same day. Patients will be billed for a physician visit.
Pre-surgical testing
Patients scheduled for elective aerosol-generating procedures at Children's will complete a COVID-19 test in Day Surgery upon arrival for surgery. Children's will contact patients scheduled for pre-surgery testing at an off-site location to inform them that their testing will be completed the day of surgery and that they can cancel their off-site testing appointment.
Exceptions:
Patients scheduled for upper GI and colonoscopy: Patients scheduled for upper GI and colonoscopy procedures may have testing completed up to four days before their procedure to avoid unnecessary preparation. These patients may schedule a preanesthesia clinic visit at Egleston or Scottish Rite hospitals, where the anesthesia advanced practice provider will order the COVID-19 test and collect the specimen to send to the hospital lab.
Fully vaccinated patients: Effective June 14, 2021, patients who are 14 days or more post being fully vaccinated will not have a pre-surgical COVID-19 test on the day of surgery. We will confirm the patient's vaccination status via the patient's COVID-19 vaccine record card or the GRITS database.
Alternative testing locations
Patients may also be tested outside of Children's at one of these alternative COVID-19 testing locations. Note: Children's provides these testing sites as a recommendation, not an endorsement. We have not yet validated the type of test performed at each site.
COVID-19 Research
Researchers mobilize to fight COVID-19.
Researchers at Children's and the Emory University School of Medicine Department of Pediatrics are working together to fight COVID-19 in the lab. These research projects are contributing to the body of knowledge around the SARS-CoV-2 virus.
learn more
Eligibility
COVID-19 vaccine eligibility has been expanded to all Georgians 12 and older.
Vaccination sites
For individuals ages 12 to 17, Pfizer is the only vaccine currently approved for these ages. Individuals can use one of the following vaccine appointment tools to schedule an appointment where the Pfizer vaccine is offered:
COVID-19 Training Resources for Families
Helping kids with handwashing

Join the Strong4Life challenge team as they teach kids about the importance of handwashing. Good hand hygiene helps you stay healthy and prevent the spread of germs.

Helping kids with social distancing

Join the Strong4Life challenge team as they teach kids the importance of practicing social distancing to help reduce the spread of germs and keep everyone healthy.

How to wear a mask

Join the Strong4Life challenge team as they teach kids the importance of wearing a mask properly so that they can help stop the spread of germs.
At Children's, we are taking every precaution to help make sure your patients are safe when visiting one of our facilities. We have taken a number of important steps to make our facilities as safe as possible.
Universal masking
To support social distancing guidelines and the health of our patients, families and employees, Children's requires all patients, staff, visitors and vendors (over 2 years old) to wear masks while in a Children's facility. Children's provides employees with the type of mask that is indicated by their work area or the type of care they provide (e.g., N95 mask, procedure mask or cloth mask).
Children's does not allow employees or visitors to wear neck gaiters, bandanas, scarves, valved or vented masks, or face shields (without a mask) as acceptable face coverings when entering a Children's facility. Anyone wearing one of these prohibited face coverings at screening will be provided a procedure mask to wear instead.
COVID-19 wellness screening
Children's requires all visitors, employees, staff, volunteers, students and contractors to complete daily wellness screenings that include temperature checks and symptom questions as part of a range of the Children's safety precautions that are aligned with the CDC recommendations.