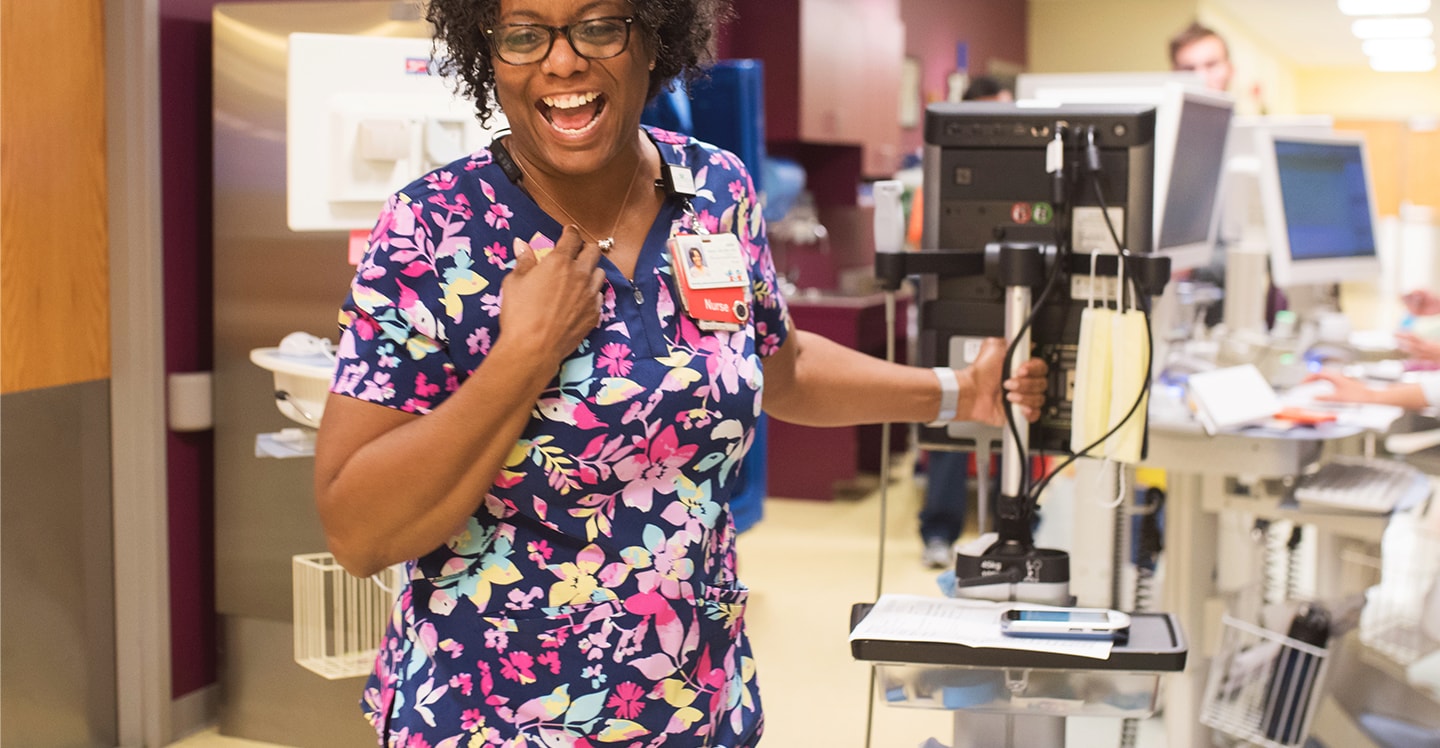 At Children's Healthcare of Atlanta, we teach you everything you need to know about being a pediatric nurse, and we welcome a variety of backgrounds and experiences. Working with children is energizing, and the environment at our pediatric hospitals is stimulating.
When nurses join Children's, they are required to attend New Employee Orientation (NEO), Patient Care Provider Orientation (PCPO) and Unit-Based Clinical Orientation. We also offer a Pediatric Entry Development Support (PEDS) Transition Program for experienced nurses who are new to Children's.
Patient Care Provider Orientation
Following NEO, new clinical employees attend PCPO, a two-day, blended orientation of classroom learning, hands-on clinical skills and computer-based learning. PCPO is designed to orient new clinical employees to the Children's relationship-based care philosophy and initial pediatric competencies, policies and practices.
PCPO prepares new clinical employees for their subsequent Unit-Based Clinical Orientation with an experienced preceptor. Patient safety is the underlying theme of the entire orientation program. By offering this training before clinical employees ever touch our patients, we are equipping them with the tools they need to provide safe and effective care from day one.
Unit-Based Clinical Orientation
Each unit has a department-based educator who will customize orientation based on the individual. The length of the orientation can vary depending on the area and previous nursing experience.
Pediatric Entry Development Support Transition Program
The PEDS Transition Program is intended for experienced healthcare professionals who are new to Children's. These classes will explore transitional topics to support healthcare professionals throughout their first year of employment.
Classes include:
PEDS 101 is designed specifically to provide a refresh of pediatric concepts to experienced healthcare professionals joining the Children's team who are new to caring for pediatric patients. Content includes growth and development, pediatric physical assessment, family-centered care, communication essentials, and death and dying.
PEDS 102 focuses on integrating healthcare professionals into the organizational culture and unit teams, including content on healthy work environments, team communication, mentoring, professional wellness, professional boundaries, and patient and family education.
PEDS 103 is a high-fidelity simulation intended for nurses that focuses on safe medication and blood product administration.
PEDS 104 focuses on the professional development of the experienced professional, including an introduction to our career advancement programs, shared leadership structure, goal setting, moral courage and personal resiliency.
The Clinical Mentoring Program is a structured post-orientation program in which, through a unit-based assignment, a mentor and mentee are paired for an established amount of time to meet specific needs. It is a framework for the passage of wisdom, caring and confidence between new and experienced staff.
The Clinical Mentoring Program includes:
Developing supportive and encouraging relationships.
Guiding new hires in their professional, personal and interpersonal growth.
Communicating information concerning expectations, learning opportunities and stressors.
Promoting optimal engagement and integration of the new hire into the Children's culture.
The program consists of a structured 12-month mentoring plan of activities and objectives, guidelines for success, and tools for the mentor and mentee. Using the six mentoring principles, mentor behaviors utilize an evidence-based practice (EBP) approach toward fostering a mentoring culture. To effectively implement this program, unit-level mentoring champions are utilized throughout the organization to assist with support of mentors, linking of mentors and mentees, and maintaining the evidence-based integrity of the program.
The Pediatric Nurse Residency Program transitions new graduates into our highly specialized pediatric environment. The 12-month residency program provides you a thorough introduction to our specialized pediatric environment and includes:
System-level classes
Specialty-specific classes
Orientation at the bedside with a team of preceptors
Simulations
Hands-on training and practice of clinical skills early in the program to increase confidence at the bedside
Classes with tips on easing your transition, covering topics like cultivating a healthy work culture, building resilience, addressing moral distress, educating patients and families, developing leadership skills, and growing your career at Children's
Nurse residency cohorts start on predetermined new graduate hire dates, typically in July or August for May graduates, February or March for December graduates, and October for August graduates.
Nurses start the Pediatric Nurse Residency Program after being hired for specific nursing units. In order to be considered for the program, you only need to apply to the Pediatric Nurse Residency Program position. You do not need to apply to each unit you are interested in. You will have an opportunity to express your units of interest in the program application.
If selected to interview and move forward in the application process, applicants will conduct a digital interview, initial phone screen with a recruiter, face-to-face department interviews and a unit shadow.
In addition to our onboarding programs, we offer the following opportunities to Children's nurses:
On-site simulation labs for ongoing training and education
Night Owl Committee to support our night shift nurses with programs, committees and floating preceptors
Preceptor training programs
Ongoing resiliency and stress reduction training courses and classes
System committees and programs to encourage support and involvement in our overall nursing strategic plan
Flexible scheduling
Children's offers an array of flexible scheduling options for experienced nurses. We value our nurses and seek to provide creative options that support you. From our in-house PRN float pool offering premium pay similar to travel nursing to our seasonal staffing contracts and weekend staffing programs, Children's has the right program to support your busy life.
For more information, contact the Children's clinical recruitment team.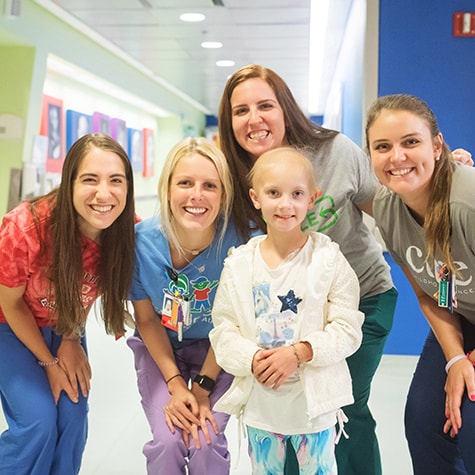 New Graduate Job Openings
Get your application in early to be considered.
We hire new graduate nurses in a variety of areas, including critical care, cardiac, hematology/oncology, transplant, emergency and general patient care. December graduates can begin to apply in September, while May graduates can begin applying in January.
APPLY TODAY
The Nurse Extern Program is a paid, eight-week summer employment opportunity for rising senior nursing students interested in pursuing a career in pediatrics. Using actual experience, nursing students function in the role of a patient care technician to acquire valuable knowledge of the highly specialized pediatric environment, establish valuable interpersonal relationships and make decisions regarding subspecialty practice.
Nurse externs are hired in a variety of units, including critical care, cardiac, emergency, hematology/oncology, medical/surgical, comprehensive inpatient rehabilitation and transplant inpatient. After the program, there is an opportunity for nurses to transition into a patient care technician position based on interest and availability.
The Nurse Extern Program includes:
NEO
PCPO
Nurse preceptor and mentoring in assigned clinical area
Ongoing learning events
Unit-for-a-day observation experiences, as available
Networking and collaborating with nurse extern cohort
What qualifications need to be considered for the Nurse Extern Program?
Must be enrolled in an accredited school of nursing; a Bachelor of Science in nursing is strongly preferred.
Must have a minimum GPA of 3.0 or higher.
Must have completed two clinical rotations by the start of the extern schedule.
Must be able to work full time, day or night schedule, and meet weekend requirements.
Must commit to the entire eight-week program.
When and where can I apply to the Nurse Extern Program?
Applications will be accepted online Dec. 1 through Dec. 31. You can find the extern job posting on the Children's careers website under the Nursing Jobs tab.