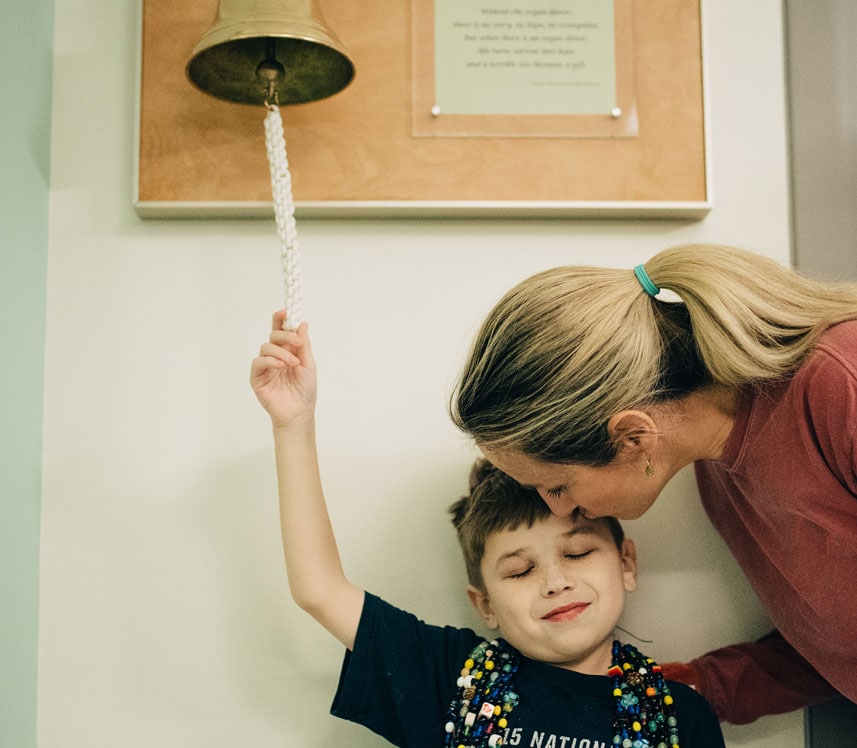 Cancer and Blood Disorders
The Aflac Cancer and Blood Disorders Center is pushing for newer and better treatments for our kids.
Childhood should be spent in carefree wonder, not fighting cancer and blood disorders.
When kids do face cancer and blood disorders, the Aflac Cancer and Blood Disorders Center is here to help with outstanding clinical care and nationally recognized research.
We're fighting for all of Georgia's kids
The Aflac Cancer and Blood Disorders Center of Children's Healthcare of Atlanta cares for more kids with cancer than anyone else in Georgia. One of the largest pediatric cancer centers in the country, we care for 8,500 pediatric patients annually from 43 states across the nation. We are also home to the largest pediatric hematology program in the country, including the largest pediatric sickle cell disease program that treats more than 2,000 unique sickle cell disease patients each year. Our commitment to clinical excellence and innovation has earned us the No. 7 ranking in pediatric cancer care by U.S. News & World Report in 2020.
We're developing the most advanced treatments
As Georgia's top pediatric cancer research center, we rank No. 1 in the country for Children's Oncology Group (COG) clinical trial enrollment, and we have more than 400 clinical studies available to our patients, meaning more kids have access locally to the latest protocols, drugs and treatments discovered across the country. Our Precision Medicine Program uses an individual's genetic profile to identify new therapies when initial protocols fail. Our Cancer Predisposition Program cares for patients who have increased risk of developing cancer due to genetic mutation. And through our partnership with Emory University and the Winship Cancer Institute, our patients have access to the only Proton Therapy Center in Georgia.
We're dedicated to providing customized cancer therapies, including the identification and development of new targeted cancer drugs against specific cancer mutations; better outcomes for pediatric cancer with fewer late-term effects; and curative options for sickle cell disease and other hematologic conditions, including gene therapy. Beyond our clinical practice, we embrace a holistic approach to caring for each child, and offer family support teams, emotional and psychological care, and survivorship programs.
The new hospital is a game changer for kids fighting cancer and blood disorders
Children's will have 25 percent of the new hospital's patient rooms devoted to cancer and blood disorders care. This expansion allows us to increase patient capacity and treat more kids throughout the state and beyond. It will also consolidate treatment and specialists to a single campus, maximizing efficiency and eliminating undue travel burdens on patients and families. We're not just providing treatment. We're helping kids be kids again.
The future of cancer and blood disorders treatment (with your support) is full of promise
Children's is now and, with your financial support, will continue to be on the forefront of pediatric cancer and blood disorders treatment and research. We will implement customized therapies when cancer comes back or doesn't respond to treatment. We will seek curative options for sickle cell disease and other hematologic conditions, including optimized mechanisms to deliver gene therapy and increased effectiveness of bone marrow transplants for sickle cell patients. We imagine a future in which we are able to cure almost every child diagnosed with cancer or a blood disorder. It is all within our grasp. Because every child deserves a lifetime.