For patients and families fighting cancer, daring to dream about the future can be daunting. Do you remember when you graduated high school? When you moved into your first home? When you started your dream job?
Many of us take these milestones for granted, not thinking that others may not get the chance to reach them. Every moment is a milestone moment for kids with cancer and blood disorders. In recognition of Childhood Cancer and Sickle Cell Awareness Month, we asked a few of our patients and staff at the Aflac Cancer and Blood Disorders Center to share their milestone moments.
At the Aflac Cancer and Blood Disorders Center, we strive to give our patients the opportunity to enjoy a lifetime of moments. In 2019, the Aflac Cancer and Blood Disorders Center diagnosed more than 475 new cancer patients and treated more than 2,000 children with sickle cell disease. Ranked by U.S. News & World Report as a top cancer program, we are dedicated to finding new treatments and conducting cutting-edge research.
The stories below are a strong reminder that we should all be grateful for milestone moments—big and small.
Hattie, 2, learning to walk with an I.V. pole
At just 10 months old, Hattie was diagnosed with infant acute lymphoblastic leukemia and was hospitalized for upward of five months for treatment. During her stay at Children's at Scottish Rite, Hattie experienced many firsts with her family and the staff at the Aflac Cancer and Blood Disorders Center by her side. From growing her first teeth to giving up her pacifier and bottle due to chemo side effects, there is no shortage of victories Hattie accomplished. The milestone Hattie's mom, Lauren, is most proud of? When her daughter took her very first steps with an I.V. pole attached to her. Today, the resilient and spunky 2-year-old is thriving in preschool.
Jacob, 20, graduating from the Aflac Cancer and Blood Disorders Center Survivorship Clinic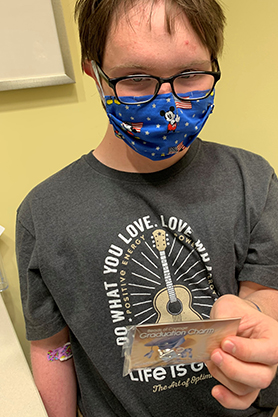 This August, 20-year-old Jacob graduated from the Aflac Cancer and Blood Disorders Center Cancer Survivorship Clinic. A milestone that served as a powerful reminder to both him and his family of everything Jacob has overcome. Jacob has Down syndrome, autism spectrum disorder, and he is also a cancer survivor. In 2009 his family received the very difficult news that Jacob had leukemia. Following his diagnosis, Jacob underwent over three years of chemotherapy treatments and his mom, Heidi, recalls how the staff at Children's saved his life multiple times. After his treatment, Jacob entered the multidisciplinary Cancer Survivor Program, where he received support and regular checkups for monitoring the disease. Heidi says Jacob's Pediatric Hematologist/Oncologist, Dr. Glen Lew, and the entire staff of the Aflac Cancer and Blood Disorders Center has been with him every step of the way. After 11 years as a Children's patient, Jacob received his graduation pin to mark the occasion. "To say Jacob's graduation was emotional is an understatement because we didn't know if we would make it this far," said Heidi. "He has overcome more in his life than most and continues to amaze us with his ability to change society and make this world a better place for all."
Joey, 15, playing competitive soccer after undergoing brain surgery for a tumor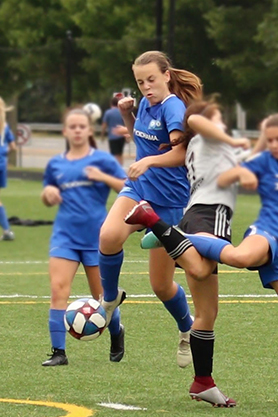 After 15-year-old Joey underwent brain surgery for a tumor in January, one of the young athlete's main goals was to get back on the field playing competitive soccer alongside her teammates. Following her surgery, Joey worked with therapists at Children's to completely relearn how to talk, walk and run. She also started chemotherapy to treat her low-grade astrocytoma. Gradually, Joey began training again and started attending weekly soccer practice in June—working hard to rebuild her stamina and balance. In August, less than eight months after she underwent surgery, Joey achieved her milestone moment: She played in three games during a tournament weekend. "While I have a long way to go to be the player I once was, I am so happy to be playing again," said Joey. "I'm so grateful for all the help and encouragement the Aflac team has provided me and my family."
Dani, 14, proudly rocking a bald head after losing her hair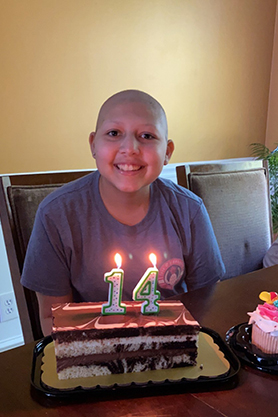 When Dani was diagnosed with acute lymphoblastic leukemia at age 13, one of the things she was most nervous for was losing her hair. So Dani opted for a shorter haircut. As time went on, her hair began to fall out as a side effect of her chemotherapy treatments. Dani's mom, Yolanda, remembers the anxiety and sadness her daughter experienced when she was unable to finish a meal without strands of hair falling onto the table. One day after her dad got home from work, the family went down to the garage together and her dad shaved her head. Yolanda saw this experience as a turning point for Dani in her cancer journey. "Shaving her head was very freeing, like a weight was lifted off her shoulders," said Yolanda. "We thought Dani would wear hats and wigs, but after she reached that milestone, she realized she liked rocking a bald head, so she never wore either."
D'Jay, 13, ringing the bell to signify him completing his transplant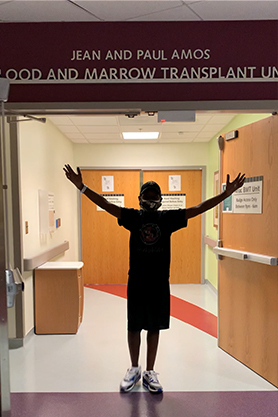 D'Jay is a middle school student from Mississippi who was diagnosed with sickle cell disease shortly after birth. Numerous hospitalizations, monthly blood transfusions and familiarity with Children's Healthcare of Atlanta led his family to the caring hands of Dr. Lakshmanan Krishnamurti, Pediatric Hematologist/Oncologist. D'Jay was admitted to the Aflac Cancer and Blood Disorders Center of Children's in mid-July to begin chemotherapy before receiving his stem cell transplant. According to his mom Shaunda, "It was a challenging process, but a network of support was in place. From the providers to child life specialists, nurses, nutritionists, psychiatrists and housekeeping team, they all checked on the well-being of D'Jay, and it made a difference! It was 'whole person care.'" D'Jay was discharged in mid-August, and his family plans to return home to Mississippi soon.
Bailey, 18, making Team USA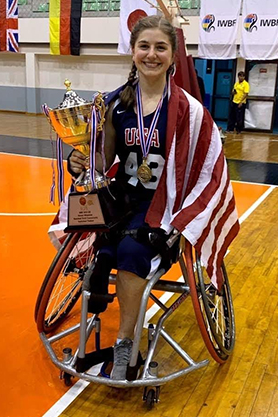 In 2012 Bailey was diagnosed with osteosarcoma and underwent a procedure called a rotationplasty where a portion of her right limb with the cancer was surgically removed, while the remaining portion of the limb is rotated and reattached to become the knee joint. After she finished treatment, Bailey began playing wheelchair basketball and she made Team USA in 2018. Since then, she has competed in the World Championships in Hamburg, Germany, won a gold medal at the U25 World Championships in Thailand and won a silver medal at the Parapan American Games in Lima, Peru. Today, Bailey has been cancer-free for almost eight years and she looks forward to competing in the Paralympics in Tokyo, Japan in 2021.
Amelia, Nurse, working as a nurse at the hospital where she was treated for cancer as a child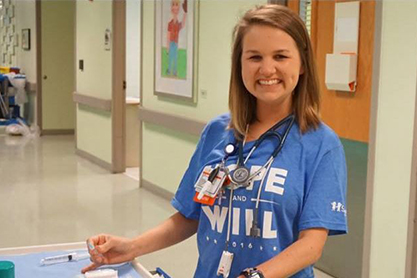 Amelia was just 17 months old when she was diagnosed with acute lymphoblastic leukemia at Children's. After nearly four years of treatment and a bone marrow transplant , Amelia beat cancer twice. Her dream was to return to our hospital as a pediatric nurse and two years ago she made that dream a reality. Today, Amelia is a clinical nurse at the Aflac Cancer and Blood Disorders Center, where she helps pediatric cancer patients like her. "It's surreal that I am now living out my childhood dream," said Amelia. "Sometimes I think back on my experiences as a patient and realize how far I have come. Seeing familiar faces that I have known since I was a patient lets me know that I am right where I need to be."
Heather Emery, Research Coordinator, Graduating from Emory college and Emory RSPH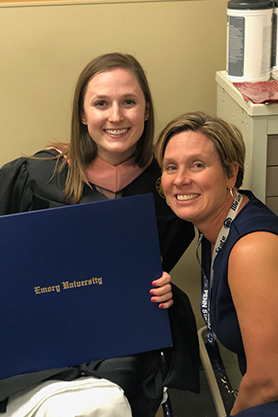 Heather was diagnosed with stage IV metastatic Ewing's sarcoma at age 15 and remembers the hope and resiliency that the staff at the Aflac Cancer and Blood Disorders Center instilled in her for her future. After enrolling in a clinical trial and undergoing a double BMT, Heather was discharged from the hospital on her 16th birthday. Heather's cancer treatments lasted through college and today she credits doctors and staff for motivating her to succeed. Heather recently completed her MPH at the Emory's Rollins School of Public Health and at graduation Dr. Wasilewski, her at doctor Children's was in the front row. Today, Heather is cancer-free and works at Children's alongside many of the same doctors that treated her as a teenager; this past spring she celebrated her 15th "cancer-versary" since diagnosis. "It was unlikely that I'd live for five years in 2005, and yet here I am in 2020," said Heather. "For me, every day is a gift that is only possible due to the hard work of doctors that saved my life. With my diagnosis, I gained a life-long family at Children's that I wouldn't trade for anything."