Three-Year-Old Tanvi is Thriving After Four Spinal Surgeries
Adopted at 21 months of age, Tanvi had never seen a doctor. After being diagnosed with a rare spinal disorder, her family turned to Children's for specialized pediatric surgical care.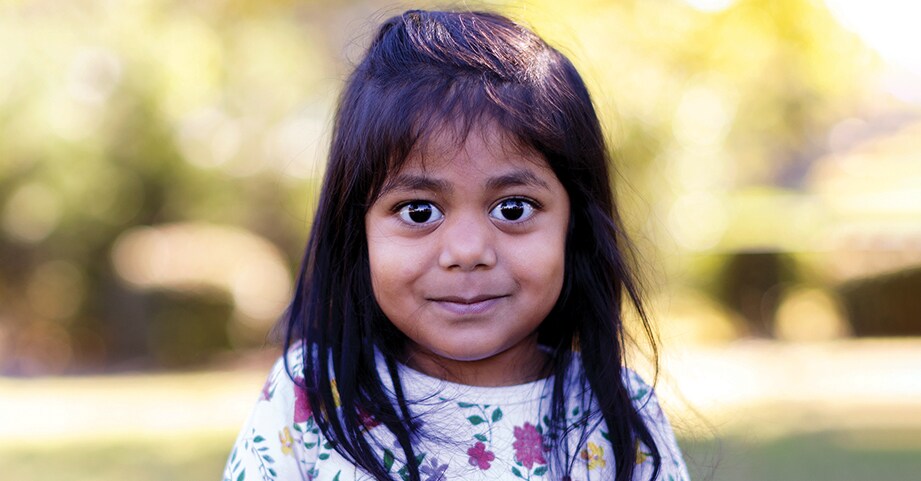 When Nick and Julie brought their 21-month-old daughter Tanvi home from India after a long road to adoption, it soon became clear to them that a new journey was about to begin.
Already mom to two children, Addy and Jude, Julie says, "I never thought I would be capable of caring for a child with special needs." And then along came Tanvi. "When we were sent Tanvi's file, here was this 13-month-old, beautiful, brown-eyed girl who wasn't able to sit up on her own. But we just knew—that's our daughter."
It was clear from the start that Tanvi would have some health concerns. She had never seen a doctor and was extremely malnourished, weighing only 14 pounds at almost 2 years old. After being home with her new family for only two days, Tanvi's needs became urgent and her parents took her to the emergency room at Children's Healthcare of Atlanta.
Nick and Julie found comfort in the care they received at Children's. Julie says, "Immediately, we were taken in and felt like a family. I have never experienced anything like it."
Tanvi has caudal regression syndrome, a rare disorder in which the lower end of the spine doesn't develop properly in the womb. She was born without a sacrum, missing some vertebrae, and she had other anomalies that required reconstructive surgery.
"The lower part of the spinal cord controls the legs, the bowel and the bladder," explains Dr. Andrew Reisner, the pediatric neurosurgeon who operated on Tanvi. "In her case, there was no alternative to surgery. Without surgery, she would inevitably develop progressive weakness or paralysis of her legs and have significant bowel and bladder dysfunction."
Having been through so much in her first two years of life already, Tanvi's resilience is nothing short of heroic. Nick recalls how brave she was, even when given shots or an IV. He says, "She would just lay there and act like she didn't even feel it. She was just so tough through it all."
Tanvi is now 3 years old. She has had a total of four surgeries to date, and she is learning to use a walker with the help of physical therapy. Her needs will be lifelong, and there may be more surgery in her future, but she's taking it all in stride and already surpassing expectations.
"The first time I saw her walk on the walker, I was just blown away. I started crying; she put that walker on her, and she just took off," Nick says.
To Nick and Julie, bringing Tanvi into their growing family was already an answer to their prayers, and her strength and joy—despite everything she's had to endure—are everyday miracles.
Nick sums it up perfectly; "I have seen miracles happen in her life already. Just seeing her walk on her walker, seeing her sit up for the first time, just seeing her go from being so malnourished to being so healthy…We've seen one miracle after another."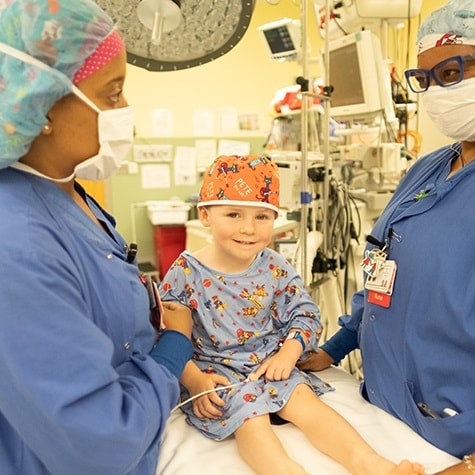 Surgery at Children's
When it comes to your child, where you take them matters.
We know surgery may seem scary, but you can rest assured in bringing your child to Children's: one of the largest pediatric clinical care providers in the U.S. and home to one of the top pediatric surgery programs in Georgia.
GET READY FOR SURGERY