From Hirschsprung Disease to Booty Camp Hero, Phineas Is a Champion
Born with Hirschsprung disease, Phineas Morton struggled with bowel control as a result of multiple procedures. Thanks to his Children's Healthcare of Atlanta care team and a successful stint at Booty Camp, he's now more regular and confident than ever.
Shortly after Phineas' birth, his parents discovered their new baby had Hirschsprung disease.
Hirschsprung disease is a rare disorder, affecting approximately 1 in 5,000 live births. It renders the bowels immobile, delaying the progression of stool and causing intestinal obstruction. "I had no idea what it was and had never heard of it or known anyone who had it," says his mother, Amanda.
Phineas received his first surgery, to remove a portion of his intestine, when he was just 4 days old. He spent the next two weeks in a neonatal intensive care unit (NICU) in a Texas children's hospital.
Ongoing control problems
As Phineas healed, his family continued to take him to see the surgeon there. "While he was growing up, there were a lot of control issues with his bowels, and as he got older, it became more noticeable and pronounced, and it became very hard for Phineas to socialize," says Amanda. "We were just never sure when he would have an accident."
As Phineas grew up, his family sought various treatments to help. They adjusted his diet and tried several medicines. In a second surgery, a tube was placed into his colon so that Phineas' parents could flush the organ manually to minimize accidents throughout the day. This demanding approach worked for about two years.
When the family moved to Atlanta, Phineas' new gastroenterologist referred the family to the team at Children's.
An unconventional case
"Many patients with Hirschsprung disease have chronic constipation issues after a successful surgical intervention," says Megan M. Durham, MD, a Pediatric Surgeon, Medical Director of the Pelvic and Anorectal Care Program and Surgical Director of the Intestinal Rehabilitation Program at Children's. "Phineas, however, had a much more difficult problem to deal with. His remaining colon is very hyper-motile, which means it moves much more quickly than the average colon."
In Phineas' case, the result of a hyper-motile colon was that he was passing stools unexpectedly and unpredictably. Dr. Durham and her team needed to discern a way to slow the stool down so Phineas could develop a more predictable and regular pattern and attend school without interruption.
A successful trip to Booty Camp
Phineas participated in the Pelvic and Anorectal Care Program at Children's, which provides multidisciplinary care to patients born with congenital anomalies like his.
He was then enrolled in Booty Camp, one of the few dedicated bowel management camps in the country. A seven-day program, Booty Camp is geared toward building skills and routines around bodily functions many of us take for granted. Each attendee receives individualized therapy tailored to their situation and their family's schedule.
"Without programs like Booty Camp, patients like Phineas tend to withdraw from normal activities. He could not attend school because his bathroom time was not predictable," says Dr. Durham. "His complications with the disease led to bodily events that led to embarrassment and teasing."
At the camp, the team helped adjust Phineas' flushing schedule and developed a plan that included medicines and dietary fiber.
A renewed sense of confidence
Today, Phineas is back in school. He's also now able to play sports. "My heart is bursting with joy for him!" says Amanda. "I was so excited to see him play flag football this fall, to go back to school and socialize, and not have to worry about whether he has an accident. We are so thrilled for him."
Phineas and his father, Ben, have also been invited back to Booty Camp. There, they're helping to lead the parent and patient introductory sessions. "That was really cool for Phineas," Ben says, "Because he got to take over for the kids' session and talk about what the camp week will be like and how it's helped him."
Phineas' positive outlook has been a gift to Booty Camp attendees. "Phineas took control of the room to give hope, share his experience and give patients confidence that their lives can be improved," Dr. Durham says. "We are very grateful for what his family has offered to do."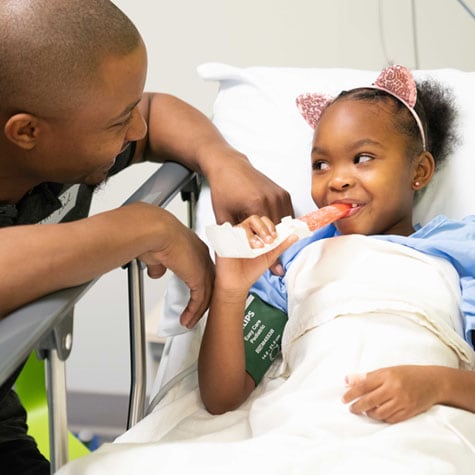 General and Thoracic Surgery
When it comes to surgery, where you take them matters.
Our pediatric surgeons have advanced training in general and thoracic surgery to treat a wide range of conditions in children from newborns to teens.
Learn More
Battling GI Concerns With Courage