What is Congenital Heart Disease (CHD) Awareness Week?
Every year from February 7th through 14th we recognize and celebrate our amazing CHD warriors during "Congenital Heart Defect Awareness Week." During this week, children and adults living with CHDs are honored and given the opportunity to increase public awareness of CHD's and childhood heart disease. Raising awareness about CHDs is important on many levels - it will provide hope for families of CHD survivors and comfort to those whose loved ones have lost their battles; it will inform the general public about the symptoms of CHDs and possibly save lives; and it will affirm the need for increased funding to researchers and medical professionals so they can continue their work to improve the outlook for CHD patients. The Kids at Heart Program at Children's Healthcare of Atlanta will encourage you to participate in virtual and in person events and opportunities that will help raise awareness about CHD's within your own families as well as in your communities, and give you a chance to meet others on a similar journey.
Key facts about the Heart Center and congenital heart defects:
CHD's are the most common birth defect that affect the structure of a baby's heart and the way it works.
Nearly 40,000 infants in the U.S. are born each year with CHDs.
The Children's Heart Center is the largest pediatric heart program in the Southeast.
We are ranked by U.S. News & World Report as one of the top pediatric cardiac and cardiology programs in the country.
We are among the top ten pediatric cardiac programs performing the most heart transplants in the country.
Our outpatient Sibley Heart Center Cardiology clinics have one of the top three largest patient volumes in the country.
Our fetal cardiology program is one of the largest in the country with more than 36,000 transthoracic echocardiograms annually.
Our outpatient cardiology services were nationally recognized for their level of patient satisfaction with the 2018 NRC Health Award of Overall Provider Rating.
Dr. Mahle, Chief of Cardiology and Co-Chief of the Heart Center, was honored by the American Heart Association with the 2020 Award of Meritorious Achievement for his research, advocacy and dedication to pediatric cardiology.
CHD Awareness Week Calendar of Events
*For any of the below events/tasks that involve you or your family posting/sharing on social media, please tag @kidsatheartchoa on Facebook and #CHDChildrensATL. Each family that tags @kidsatheartchoa and uses #CHDChildrensATL in their posts will be entered into a special CHD Awareness Week Giveaway Drawing!
February 7: Opening Ceremonies of the CHD Awareness Week: Join a special Facebook Live event (in the Kids at Heart Facebook group) with Dr. Glen Iannucci.
February 8:Share the Children's CHD Awareness graphic on social media/via email to family friends and change your Facebook banner to a CHD Awareness 2022 Banner.
February 9: Virtual story time with CT Surgeons Dr. Rosenblum and Dr. Shaw, 6:00 PM. Purchase a book or download PDF.
February 10: Share your story to promote CHD Awareness at school or work. Encourage your classmates/co-workers to wear red. Share your family's CHD journey to help make classmates or coworkers #chdaware. Use CHD videos on the Children's website as well as CHD facts above to help describe CHD. Post a photo of your friends/co-workers wearing red.
February 11: Share Proclamation that states "February 7-14 is CHD Awareness Week in the State of Georgia" on your social media platforms.
February 12: Create a letter for a favorite nurse, doctor, therapist, Children's staff member and recognize them for being part of your CHD journey. Color this coloring sheet and include a note, use our letter template or design your own card, scan and email to us and we will deliver to staff.
February 13: Take a selfie or family photo wearing the CHD Awareness 2022 shirt or any Heart family/warrior shirt!
February 14: Always in our Hearts: Today we remember the heart warriors who left us too soon. Post a photo and a memory of a warrior you want to honor with our community.
Join us for our 2022 CHD Awareness/Heart Month Celebration.
Email kidsatheart@choa.org for more information.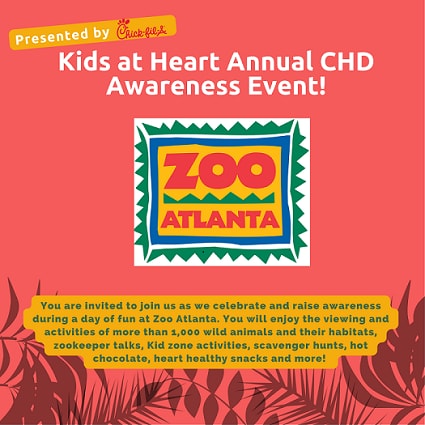 Ways to support CHD Awareness Week 2022
Share your story & read others' stories