Ear Tube Surgery Is a Common Pediatric Procedure
More than half a million kids have ear tube surgery every year—usually between the ages of 1 and 3—making it the most common childhood surgery performed with anesthesia.
"It's scary to think about your child having surgery, but parents should know that ear tube surgery is a safe procedure, and there's a very low risk of serious complications," explains April Landry, MD, a Pediatric Otolaryngologist at Children's Healthcare of Atlanta.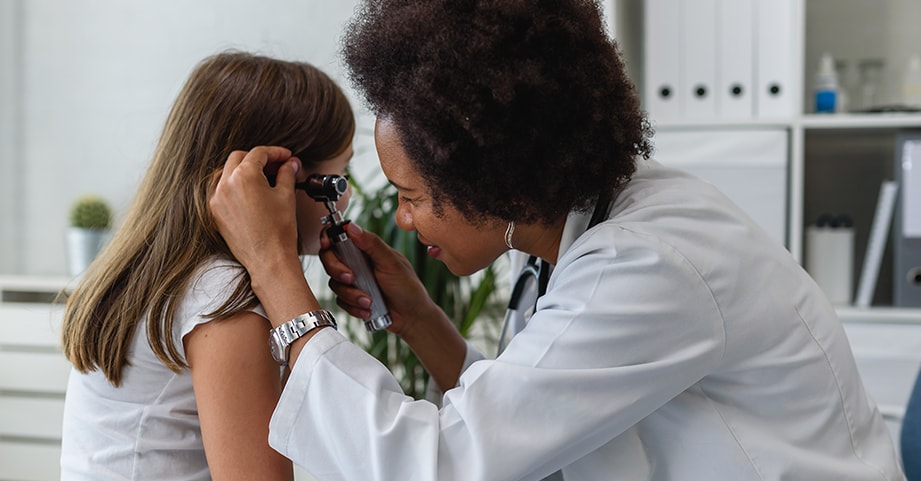 An ear tube procedure only takes 10 to 15 minutes to complete and is typically done in both ears. A pediatric ear, nose and throat surgeon, also known as an ENT or otolaryngologist, inserts a tiny metal or plastic tympanostomy tube, or ear tube, into the eardrum.
Most children require general anesthesia, which means they are asleep during surgery. Each child who undergoes surgery at Children's is guaranteed a pediatric anesthesiologist who is trained specifically to manage any issues that could arise while your child is asleep.  
The ear tubes typically remain in place for eight to 15 months or longer. Some ear tubes fall out on their own, while others have to be removed by a pediatric ENT surgeon, usually if they've been in for more than three years. 
Pediatric Anesthesia
Some facilities can't guarantee a pediatric anesthesiologist for your child—we do.
While some hospitals may not be staffed to meet this need, at Children's, every baby, child and teen receives care from a pediatric anesthesiologist who understands best practices for growing bodies.
Most children can go home on the same day as the surgery, once they are awake and have recovered from the anesthesia.
"It's important to keep your child home from day care or school the day of surgery and have him rest," Dr. Landry says. "Kids usually experience little to no pain after the operation, but your child may be temporarily groggy or have nausea from the anesthesia."
Keep in mind:
Your child's ears may drain a small amount of blood-tinged fluid during the first week after surgery.  
Your child's ears may feel itchy and "plugged up" for the next two weeks.  
Keep water out of your child's ears for at least two days. Your child's doctor will give you instructions about bathing and using earplugs if needed.  
After two days, most children can resume normal activities, such as bathing, swimming and traveling on planes, unless otherwise instructed by your doctor.  
Your child may need medicine after surgery. It's important to follow the instructions your child's doctor shares. Acetaminophen may be given for pain if prescribed by your child's doctor. Follow the directions on the box carefully, or ask your child's doctor how much medicine to give. The doctor may also give you antibiotic ear drops to administer for the first few days after surgery. 
Ear tube surgery is a relatively safe procedure, but as with any surgery, there are some risks. Possible complications may include:
Ear tubes that come out too soon: This could result in the need for an additional surgery.
Ear tubes that stay in too long: They may need to be removed by a surgeon.
Ear infections: Children can still get ear infections with tubes in place; however, they're usually milder.
Scarring of the eardrum: In most cases this doesn't cause any problems with hearing and doesn't need any treatment.
Perforation of the eardrum: This is rare and can happen when an ear tube comes out or is removed and the hole in the eardrum doesn't close. This requires a surgical procedure to patch the hole.
Otolaryngology at Children's
When it comes to your child, where you take them matters.
If your child has ear infections, strep throat or other issues that impact their ears, nose or throat, find a pediatric otolaryngologist or click the link below to schedule an appointment.
Make an Appointment
April Landry, MD, is a Pediatric Otolaryngologist at Children's Healthcare of Atlanta, as well as an Assistant Professor in the Department of Otolaryngology–Head and Neck Surgery and Assistant Professor in the Department of Pediatrics at Emory University School of Medicine. She joined Children's by way of Cincinnati Children's Hospital, where she completed a fellowship in pediatric otolaryngology.
This content is general information and is not specific medical advice. Always consult with a doctor or healthcare provider if you have any questions or concerns about the health of a child. In case of an urgent concern or emergency, call 911 or go to the nearest emergency department right away. Some physicians and affiliated healthcare professionals on the Children's Healthcare of Atlanta team are independent providers and are not our employees.