It can often be difficult to think of the perfect gift to thank a client for supporting your business. And it is important to select a thoughtful and unique gift that shows you really appreciate them. That's where Children's Healthcare of Atlanta can help out. With our Love Your Client Program, we make it easy for you to thank your clients, while also demonstrating your charitable values.
Simply make a donation to Children's in honor of your client. We will send a card to them, sharing information about the wonderful gift you've given in their honor and thanking them for their business. The card will include your contact information, as well as a special story about a patient at Children's. These cards are quite unique among the typical client gifts and will reflect your commitment to supporting your community.
All donations are tax deductible and directly benefit Children's, helping provide high-quality pediatric care to our patients and families, as well as fund our pediatric research and programming. For more information about getting involved in Children's Love Your Client program, please contact Lydia Stinson.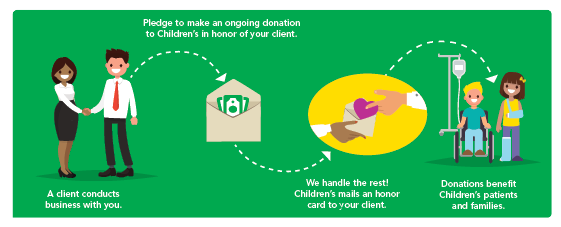 Ways to show your appreciation