Managing Pain After a Tonsillectomy or Adenoidectomy
When it comes to the two most common pediatric procedures performed on kids—tonsillectomies and adenoidectomies—it's important to know how to properly manage their pain after surgery.
Pain management is key for a pediatric patient coming through a tonsillectomy and adenoidectomy successfully.
"These surgeries are two of the most common surgical procedures performed on kids in the U.S., and each can be painful," explains Kara Prickett, MD, a Pediatric Otolaryngologist at Children's Healthcare of Atlanta. "And since we can't stitch up the wound bed in the mouth after removal of the tonsils or adenoids, the wound remains open. It has to heal on its own, and that's why it may hurt more than other surgeries. That can be scary for a young patient and the parents taking care of their child."
Recovery after a tonsillectomy in particular can last up to two weeks before patients are no longer experiencing pain. In that time, it's important that parents understand how to help manage their child's pain and recovery after surgery in a way that is both safe and comfortable for their child.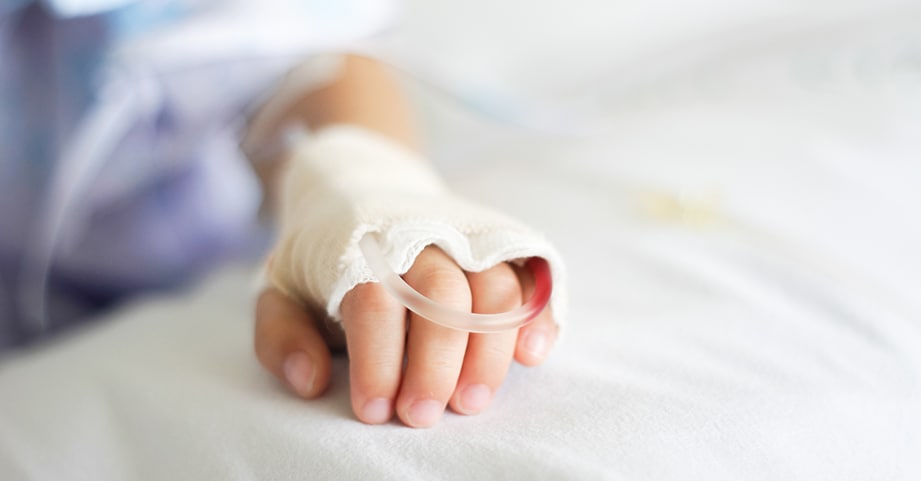 Children's ear, nose and throat surgeons, or surgical ENTs, follow a strict clinical guideline based on research and outcomes to determine pain management recommendations for our pediatric patients. Specifically, our guidelines recommend nonopioid alternatives for optimal pain control in younger patients to decrease morbidity after an adenoidectomy or tonsillectomy. Children's continues to prioritize enhanced recovery after surgery (ERAS) guidelines, which emphasize return to function after procedures and opioid-sparing techniques.
Clinical guidelines indicate that there doesn't seem to be any added benefit from treating children 6 and younger with narcotics after a tonsillectomy or adenoidectomy. There is limited evidence that opioids actually improve post-operative pain relief.
There's also an increased risk of side effects with narcotics, including drowsiness, itching, constipation, respiratory depression, urinary retention and nausea.
"We don't see these symptoms with acetaminophen and ibuprofen, so we express to families that it's not that we are giving them less pain control; it's that we are giving them equally effective pain control with a lower risk of side effects," says Dr. Prickett.
For patients who are 7 and older, a Children's pediatric otolaryngologist may prescribe an opioid—typically a liquid formulation—if needed. Teens may receive a tablet to avoid a larger volume of liquid medication necessary for their weight and age following a tonsillectomy or adenoidectomy.
For patients who are not prescribed an opioid to manage pain, such as children 6 and younger, studies have found that acetaminophen, as the sole pain medication, is limited in its ability to control post-operative pain. The addition of ibuprofen, often on a staggered schedule, does seem to control pain for the majority of young children. Additionally, clinical studies recommend alternating an opioid with acetaminophen or ibuprofen when trying to control pain after surgery for older children.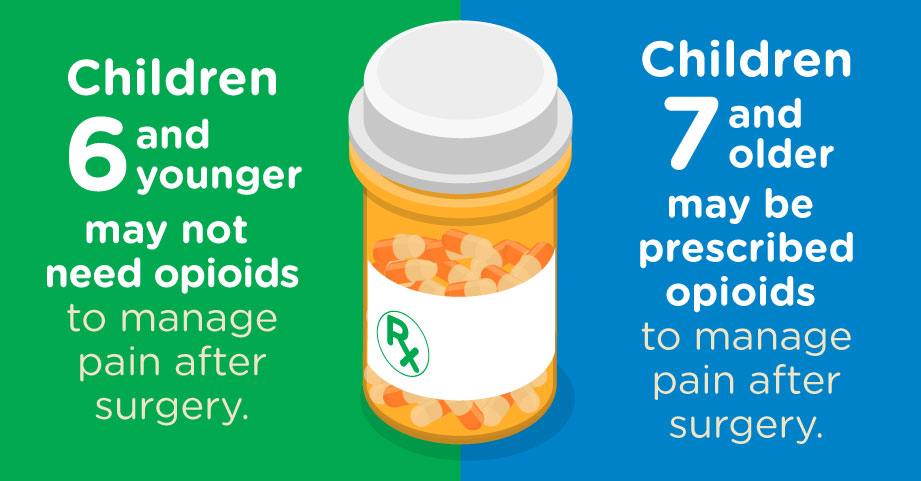 A review from the Cochrane Collaboration that included 1,100 children in 15 studies found that nonsteroidal anti-inflammatory drugs, or NSAIDs, did not significantly increase the risk of bleeding as compared with a placebo or other analgesics, did not significantly alter the number of perioperative bleeding events requiring nonsurgical intervention, and resulted in less nausea and vomiting.
"For a long time, NSAIDs like ibuprofen were avoided because of presumed risks of bleeding," Dr. Prickett says. "But it is recommended with the caveat that patients should ask doctors about the appropriate dose. Lower doses that are age and weight appropriate are not associated with any increased signs of bleeding."
To keep a child's pain controlled, it's important that families are very regular with dosing in the first few days after surgery, even if the child isn't in pain at the time of the next dose of medication. Dr. Prickett recommends parents create a chart or timetable at home to know exactly when to give each medication.
"We often give a prescription for a specific weight-based dose for over-the-counter medicines like acetaminophen and ibuprofen," Dr. Prickett adds, noting that the guesswork of determining the exact dosage can sometimes be confusing for parents, particularly when alternating medications. "Having a specific dose for the child has been shown in some studies to increase patient adherence to pain control regimens and decrease perceived pain."
At Children's, clear instructions are provided to families to avoid accidental concurrent dosing of acetaminophen with hydrocodone or additional doses of acetaminophen.
Dr. Prickett and other pediatric specialists like her at Children's are trained to care for kids from birth to age 18, from their very first appointment to monitoring and follow-up after surgery. We conduct all surgeries in a child-friendly surgery center—meaning our tools and equipment are made just for treating growing kids and teens—and a pediatric anesthesiologist develops a specialized anesthesia plan based on a child's specific case.
"And from a pain control perspective, we have an eye for maximizing pain relief with strategies that work for babies, kids and teens while also taking into account our desire to prevent any unnecessary opioid exposure or opioid dependence that can occur if it's not going to benefit the patient," she concludes.
Children's is setting the bar for kids who need surgery in Georgia by being the first facility in the state with a Level 1 Children's Surgery Verification from the American College of Surgeons. There are fewer than 30 verified Level 1 facilities with Children's Surgery Verification across the country, and we have two.
Kara Prickett, MD, is a Pediatric Otolaryngologist at Children's Healthcare of Atlanta. Dr. Prickett earned her medical degree from the Columbia University College of Physicians and Surgeons and participated in the fellowship program at Children's Hospital of Philadelphia. She earned her board certification from the American Board of Otolaryngology.
This content is general information and is not specific medical advice. Always consult with a doctor or healthcare provider if you have any questions or concerns about the health of a child. In case of an urgent concern or emergency, call 911 or go to the nearest emergency department right away. Some physicians and affiliated healthcare professionals on the Children's Healthcare of Atlanta team are independent providers and are not our employees.