How to Respond to Your Child's Asthma Attacks
Updated 4/5/21
Asthma attacks, also called flare-ups, can be scary—especially when it's your child. Here are some important tips about what to do when it happens so you're always prepared.
Children who have asthma can feel well most of the time, especially if they take medication prescribed by a doctor. But during an asthma flare-up, their symptoms can increase dramatically.
What happens during an asthma attack?
The airways get swollen and inflamed.
Thick, sticky mucus fills up the airways.
The muscles that wrap around the airways squeeze tight.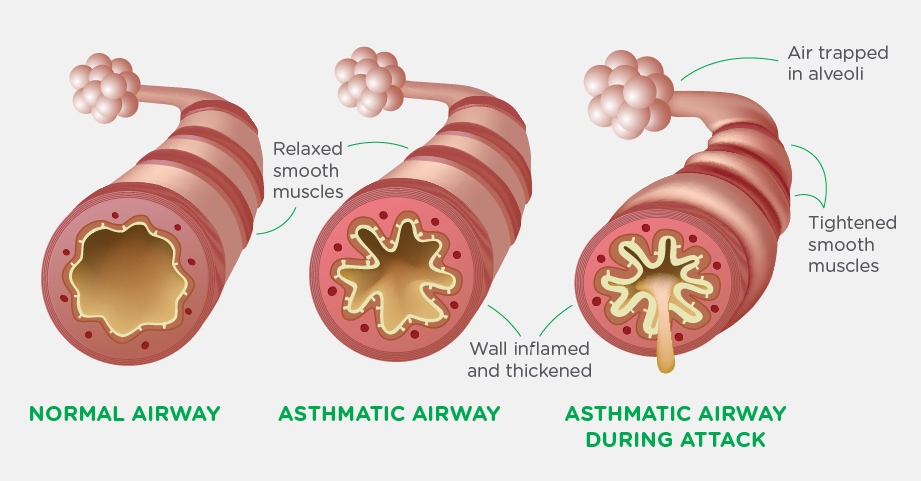 These three things can cause:
Coughing
A tight feeling in the chest
Shortness of breath
Labored breathing (working much harder to breathe)
Wheezing (the sound caused by trying to breathe through the narrowed airways)
What causes an asthma attack?
Asthma flare-ups are caused by triggers, which are irritants like high smog levels, colds and flu, cigarette smoke, scented cleaning products or even seasonal changes in the weather. Triggers vary from person to person, so as you notice which irritants trigger your child's asthma, you'll be better able to help your child avoid them.
"Asthma flare-ups can be scary, both for the person having it and for anyone who sees it happening, especially if it's happening to your child," says Matthew L. Hazen, MD, a Pulmonologist at Children's Healthcare of Atlanta. "Knowing how to handle the situation can be a big help."
What are the early warning signs of an asthma attacks in kids?
You can catch asthma attacks before they worsen because they usually begin with minor symptoms. Doctors call these early warning signs.
They include:
Mild coughing
Itchy or sore throat
Runny or stuffy nose
Itchy or watery eyes
Headache
Tiredness or irritability
Chest tightness
Wheezing
Shortness of breath
How can I tell when my child is having an asthma attack?
If you notice any of the following signs, it means your child is having an asthma flare-up or attack.
Coughing or wheezing
Chest tightness
Less playful or hard to wake up
Trouble catching his breath

An older child may sit hunched over or be unable to speak a full sentence without stopping to take a breath.
A baby may have a softer cry than usual and may not be able to suck on a pacifier or bottle well.

Skin between the ribs and around the collarbones that pulls with each breath (called "retractions")
The nose opening wider than normal, like a bull's nose, with each breath
Breathing faster than normal

To find out if your child has a normal breathing rate, count breaths when he is calm or sleeping.
Normal breathing rates are:

Birth to 1 year: 30 to 40 breaths a minute
1 to 8 years: 24 to 30 breaths a minute
9 years and older: 16 to 24 breaths a minute
If your child has a blue, purple or pale gray color to the lips, gums or fingernails, call 911 immediately. This is an emergency.
What should I do during my child's asthma flare-up?
By responding quickly to an asthma flare-up, you can often stop it or make it less severe. Here's what to do:
Step 1: Look for the signs listed above to decide if an asthma flare-up is happening.
Step 2: Locate your child's quick-relief medicine inhaler or nebulizer. This is usually albuterol. It's important to keep this inhaler with your child at all times in case it is needed.
Step 3: Give your child four puffs or one vial of quick-relief medicine, as directed. You can use the yellow zone of your Asthma Action Plan for directions.
Step 4: If your child responds well to the rescue medicine, you can continue to use it as needed. If he continues to have difficulty breathing, follow the steps listed in your Asthma Action Plan.
Step 5: If your child's condition does not improve, you can call your asthma doctor's office for further assistance. If at any point your child's breathing becomes very labored, or if you do not feel comfortable treating from home, you should go to the emergency room or call 911.
How else can I prepare for my child's asthma flare-up?
An Asthma Action Plan can help you manage your child's asthma. If your child doesn't have an Asthma Action Plan, talk to his doctor about getting one. Give a copy of the plan to your child's school, day care center, babysitter, coach, grandparent and anyone else that helps take care of your child. It will help them understand how to recognize and handle an asthma flare-up. It is written just for your child and should include:
Your child's prescribed controller and quick-relief medications
What to do when your child is having an asthma attack
How to identify warning signs of an asthma attack
Your child's triggers
Guidelines for treatment before activity
Emergency contact information
To learn more about managing childhood asthma and making preparations to respond to future asthma attacks, talk with your child's doctor.
Caring For Kids With Asthma
Breathe easy with help from our pediatric team.
When your child can't breathe, it can be scary. At Children's, our team of specialists can treat your child and equip you with strategies to manage his symptoms, whether he's a toddler or a teenager.
See How
This content is general information and is not specific medical advice. Always consult with a doctor or healthcare provider if you have any questions or concerns about the health of a child. In case of an urgent concern or emergency, call 911 or go to the nearest emergency department right away. Some physicians and affiliated healthcare professionals on the Children's Healthcare of Atlanta team are independent providers and are not our employees.