As many as three babies in every 1,000 births are born with some type of hearing loss, and six school-age children in every 1,000 have hearing issues. Children's Healthcare of Atlanta is leading the way when it comes to the services we offer pediatric patients who suffer from hearing loss.
Hearing devices are not a one-size-fits-all resolution for kids who have hearing issues, so our team of specially trained otolaryngologists tailor care plans using advanced technology to address concerns.
Examples of our advancement in awareness and services is with two active magnetic hearing devices most recently approved by the U.S. Food and Drug Administration (FDA) in 2018 and 2019—MedEl Bonebridge and Cochlear Osia, respectively—that we are currently offering patients and families.
What are active transduction implants?
Kristan Alfonso, MD, a Pediatric Otolaryngologist at Children's, implanted the first Bonebridge device into a pediatric patient in Georgia in December 2019, followed by implanting one of the first Osia devices into a pediatric patient in Georgia in July 2020.
"There's been such an improvement in the technology of these devices over the past decade, especially for bone conduction implants," Dr. Alfonso explains. "Traditionally, this type of device would require you to clip on the hearing aid processor. It led to good results, but you could have problems with infections around the abutment."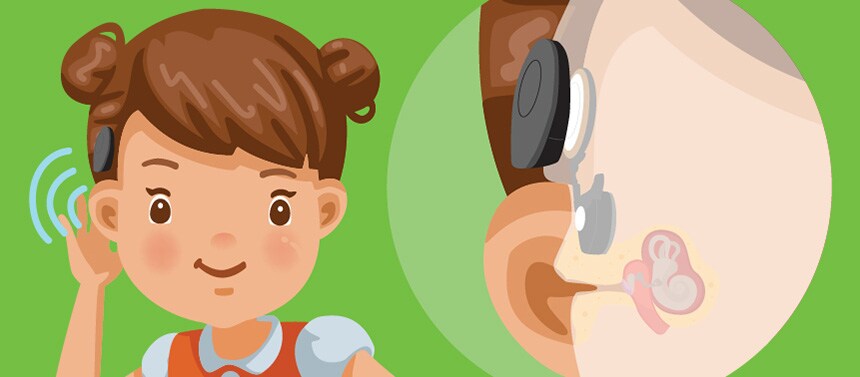 The Bonebridge and Osia devices are placed under the skin behind the ear and implanted into the bone. The external hearing aid processor sticks on using a magnet.
"This can help lead to excellent hearing results by having the vibrational capacity within the implanted portion itself, compared to other devices available before," adds Dr. Alfonso.
The Bonebridge and Osia devices are called active transduction, or direct drive, implants compared to the more traditional bone-anchored devices. They do not have to be attached to an abutment or post that protrudes through the skin. By allowing the skin to stay intact, a patient does not have to deal with the care and maintenance involved in implants that have abutments, therefore, there is improved cosmesis.
In addition, active transduction implants like these allow signals to be transferred from the external device to the internal device through the skin. The internal device then converts these signals into mechanical vibrations to transfer sound through the bone to a child's hearing nerve. This differs from more traditional devices that have the vibratory mechanism within the external processor.
Bonebridge and Osia can be fitted with the external processor much earlier than traditional bone-anchored devices, within one month after a child's surgery. They also have options for waterproof covers and help reduce feedback since the transducer is under the skin.
Both devices are FDA-approved for children ages 12 and older for conductive hearing loss, mixed hearing loss and single-sided deafness. However, in some countries Bonebridge is approved for children ages 5 and older, so our team anticipates the age being approved for younger patients in the U.S. in the near future.
For patients who may need ear reconstruction—for example, if they are born without an external ear—these are both operable resolutions even before the reconstruction procedure is completed.
What are the advantages of active magnetic hearing devices for children?
Advantages of the two devices include:
Children can participate in water activities like swimming.
A kid can lie down on his side comfortably.
A child can wear a helmet when riding his bike or playing sports.
Hats are easier to wear and not so cumbersome.
Sound quality is better.
There are no open wounds.
The devices are easy to maintain and cosmetically appealing.
The devices connect to Bluetooth-compatible technology.
Users experience less background noise and can focus on targeted noise or sounds.
We are setting the bar high for children in Georgia who need surgery to implant these devices by being the first facility in the state with a Level 1 Children's Surgery Verification from the American College of Surgeons. There are fewer than 30 verified Level 1 facilities with Children's Surgery Verification across the country, and we have two.