Introduction
After his fellowship at Boston Children's Hospital, Dr. Devito focused his surgical career on caring for pediatric spine patients. Dr. Devito serves as the Medical Director of the Spine Program at Children's Healthcare of Atlanta. He specializes in the treatment of scoliosis and other complex spinal disorders and deformities in children, adolescents and young adults.
Dr. Devito is a leader in advanced surgical technology including the surgical use of robotics for scoliosis surgery in children and adolescents. He is also experienced with the VEPTR device used to treat complex chest wall deformities seen in congenital scoliosis and early onset scoliosis. He received the Health-Care Innovations Heroes award for his work in this area.
Dr. Devito's other orthopaedic interests include advanced limb reconstruction and trauma. He is board certified by the American Academy of Orthopaedic Surgeons, a member of the Pediatric Orthopaedic Society of North America, a fellow of the American Academy of Pediatrics, and offers more than 30 years of pediatric orthopaedic surgical experience. Dr. Devito is a consulting associate for the Duke Department of Orthopaedic Surgery.
In his free time he enjoys outdoor activities like bicycling, skiing, and hiking while never hesitating to put together a gourmet meal, as I enjoy cooking; but my favorite activity is playing with my 10 grandchildren!
Focus of Practice
Spinal care

Limb deformity
Areas of Interest
Scoliosis and spinal deformities

Spondylolysis

Degenerative disc disease
Research & Publications
Design and development of an implant for the repair of spondylolytic defects in the lumbar spine (pars repair), Planning software to analyze and predict the three-dimensional correction of spinal deformity, Prospective data collection and outcome evaluation for the use of robotic guidance in spinal surgery, Effect of pedicle screw fixation on global spinal balance in scoliosis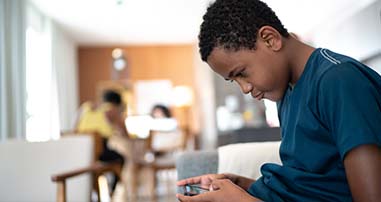 How Important Is My Teen's Posture?
Slouching over screens or carrying a heavy backpack can result in pain and stiffness. Here's what to know about improving your child's posture.
posture-and-scoliosis-in-kids
Bailey's Spine Was Worth the Drive
This family didn't hesitate to cross state lines so Bailey Brisby's scoliosis could be treated by the nation's top orthopedic specialists at Children's.
bailey
In the News
Dr. Devito, who has dedicated his career to helping children since 1987, is the winner of the Physician Award for the 2019 Health Care Heroes Awards sponsored by Atlanta Business Chronicle.
---
Atlanta Business Chronicle
Dr. Devito shares what technology trends are on the horizon for spinal surgery based on his experience and expertise.
---
Becker's Spine Review