February 2020 is the first National Heart Month of a new decade. As we look back on the teens and kick off the '20s, we're sharing 10 celebrations from our cardiac families.
My'Liyah, 1 years old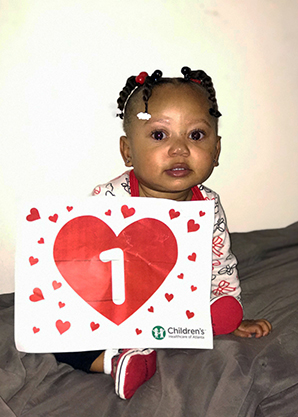 When her mom was 20 weeks pregnant, My'Liyah was diagnosed with hypoplastic left heart syndrome (HLHS). Immediately after birth, My'Liyah was transported from a hospital in Macon, Ga., to the Children's Healthcare of Atlanta Heart Center. On Jan. 24, 2019, at just 3 days old, she underwent the Norwood open heart procedure, performed by Children's cardiothoracic surgeon Subhadra Shashidharan, MD.
Cali, 14 years old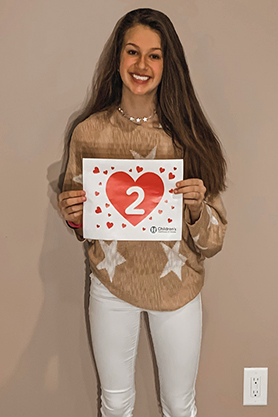 At 11 years old, Cali went in for a routine sports physical when her family pediatrician noticed an irregularity in her heartbeat and referred her to a cardiologist. Shortly thereafter, Cali was diagnosed with an atrial septal defect (ASD) and underwent open heart surgery with Dr. Subhadra Shashidharan at the Children's Heart Center. Today the eighth grader is thriving and extremely active, playing soccer and tennis as well as cheerleading. Cali recently celebrated the second anniversary of her heart defect repair.
Aiden, 3 years old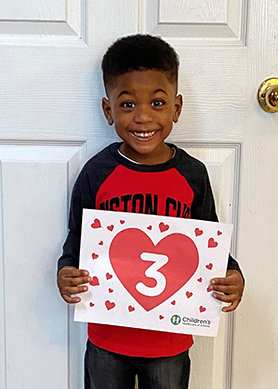 When his mom was five months pregnant, Aiden was diagnosed in utero with tetralogy of Fallot (TOF), a cardiac anomaly that refers to a combination of four related heart defects that commonly occur together. At just 8 months old, Aiden underwent open heart surgery. Now a preschooler, he is doing well and enjoys singing and playing the piano. In January 2020, Aiden proudly celebrated his third "heartiversary" and continues to be monitored by Children's Heart Center cardiologist Martha Clabby, MD.
Fletcher, 6 years old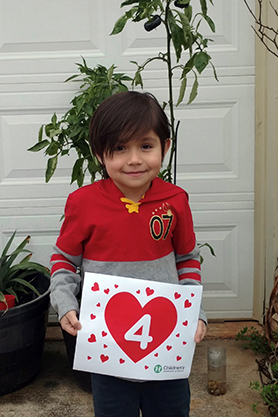 Fletcher was diagnosed with HLHS in utero when his mother was 26 weeks pregnant. He and his twin brother were born in the summer of 2013, and Fletcher had his first open heart surgery, performed by cardiothoracic surgeon Kirk Kanter, MD, at just 5 days old at the Children's Heart Center. He underwent another open heart procedure at 4 months of age and in March 2016, after 91 days in the Cardiac Stepdown Unit, finally received a heart transplant. After a long heart journey, this 6-year-old will soon celebrate the fourth anniversary of his lifesaving transplant. Fletcher spends his time riding bikes and playing hot wheels with his twin brother.
Zemirah, 10 years old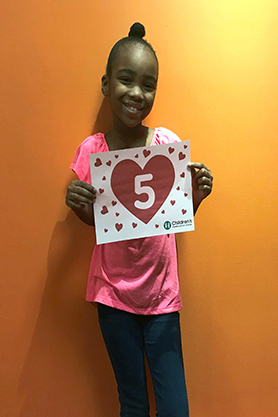 At 3 years old, Zemirah was diagnosed with osteosarcoma, a type of bone cancer. After 24 rounds of chemotherapy to treat the cancer, Zemirah was diagnosed with chemotherapy-induced cardiomyopathy. In September 2014, Zemirah's heart was failing, and she was admitted to the Children's Heart Center. William Mahle, MD, recommended the Berlin Heart, a heart pump device that maintains blood flow in babies and small children with serious heart failure. Dr. Kirk Kanter, or "Captain Kirk," as Zemirah's dad affectionately calls him, performed her successful heart transplant in January 2015. Zemirah celebrated her five-year heart anniversary Jan. 21, 2020, and will be seven years cancer-free in May 2020.
Paisley, 6 years old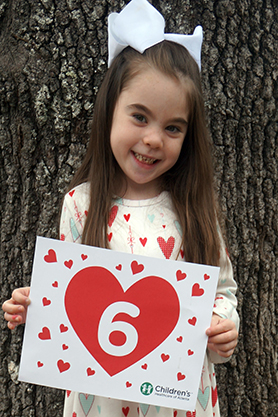 At 22 weeks gestation, following concerns during an anatomy scan, Paisley's family received the news that their baby had HLHS. She was born in September 2013 and transported to Children's one day after birth. At just 6 days old, Dr. Kirk Kanter performed the Norwood procedure. At 5 months old, after being life-flighted to Children's, Paisley had a second open heart surgery, the Glenn procedure, with Dr. Kanter. In October 2019, Dr. Shashidharan performed Paisley's third open heart surgery—the Fontan procedure. Paisley has seen her Children's cardiologist, Timotheus Watson, MD, since the beginning of her journey and continues to visit for routine follow-ups, electrocardiograms and echocardiograms. Paisley is now 6 years old and loves playing with her cousins, horseback riding, singing and dancing.
Felicity, 7 years old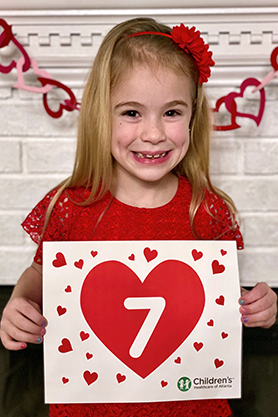 At just 1 day old, Felicity was diagnosed with total anomalous pulmonary venous return and patent foramen ovale (PFO). She spent her first Christmas in the Cardiac Intensive Care Unit at the Children's Heart Center, and on Dec. 26, 2012, at just 4 days old, she underwent open heart surgery. Every year at Christmas, Felicity takes a photo with the Beads of Courage she received in the hospital to celebrate the anniversary of her open heart surgery—this past holiday season marked seven years since her surgery.
Micah, 9 years old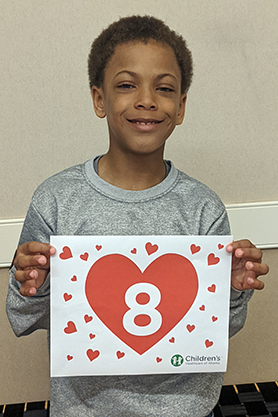 At a routine ultrasound appointment, doctors noticed an abnormality in Micah's mom's scan. Micah was diagnosed in utero with HLHS, and after he was born he underwent two open heart surgeries—the Norwood and the Glenn procedures—at the Children's Heart Center. When Micah's condition worsened, Dr. William Mahle evaluated him and recommended that he be listed for a transplant. In March 2012, Micah received a lifesaving heart transplant and continues to be followed closely by Children's cardiologist Chad Mao, MD. Today, the fourth grader enjoys playing baseball and drawing.
Briley, 9 years old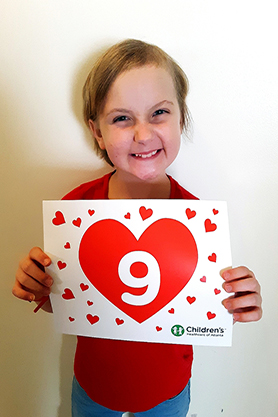 Briley was diagnosed with TOF at birth, and at 4 months old she had open heart surgery to repair the defect. When she was 7 years old, Briley was diagnosed with leukemia at the Aflac Cancer and Blood Disorder Center of Children's Healthcare of Atlanta. She continues to visit Children's cardiologist Benjamin Toole, MD, for cardiac checkups and is actively undergoing chemotherapy treatment at our Aflac Cancer and Blood Disorders Center clinic. This cancer and cardiac warrior enjoys dancing, acting and playing golf. She recently celebrated the ninth anniversary of her heart repair.
Sarah Beth, 10 years old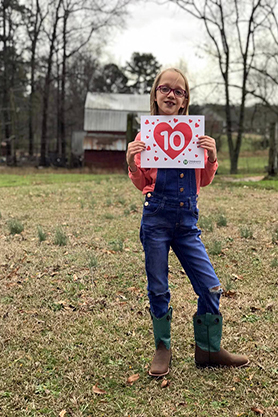 When her mom was 36 weeks pregnant, Sarah Beth was diagnosed with a complex congenital heart defect. Her diagnosis included tricuspid and pulmonary atresia, ventricular septal defect, double outlet right ventricle, bilateral superior vena cava and an atrial septal defect. She underwent a series of three open heart surgeries—a Blalock-Taussig shunt, a Glenn procedure and a Fontan procedure—all performed by cardiothoracic surgeon Dr. Kirk Kanter. The fourth grader recently celebrated the 10th anniversary of her Glenn procedure. Today Sarah Beth is a happy 10-year-old who loves to bake, sing in chorus and practice taekwondo.
As the largest cardiac program in the Southeast and one of the top five largest pediatric heart centers in the nation, our Heart Center team provides exceptional treatment to infants, children and teenagers who have complex heart defects. Visit choa.org/heart to learn more.