By Stephanie Campbell, Creed's Mom
Born prematurely, my son Creed spent his first 91 days in the hospital. By the age of 7, he'd been hospitalized 25 times. With so much of his time spent in and out of the hospital and doctors' offices, making friends the traditional ways—on playgrounds, at school—wasn't an easy task. Thankfully, his best friend Casper found his way to him.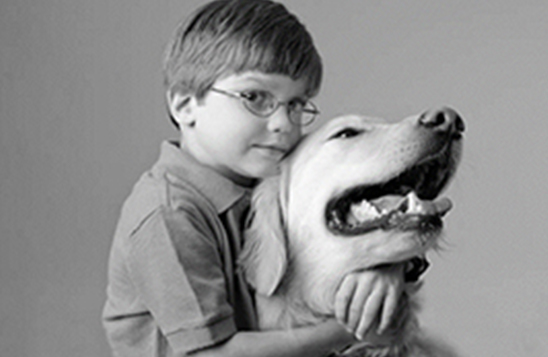 My Creeder first met Casper at Children's Healthcare of Atlanta, just three months after the facility dog began "working." My mom took Creed downstairs to Casper's second birthday party, and Creed, a born dog lover, immediately started loving on Casper. Later that afternoon, I heard all about how this dog had his own employee badge and was nuts about peanut butter.
The next day, I was in Creed's room in the pediatric intensive care unit when I met Casper. Casper's head poked around the door, with Lisa (his handler and dog mom) a few paces behind. Before I could say a word, he hopped up into Creed's bed to lay with him, as if he'd done it a thousand times before. Next thing I knew, Creed was giggling and treating Casper to peanut butter and cheese in bed. With that, their friendship was born. I had just seen the magic of facility dogs at work.
Our many hospital visits took us to many rooms on many units of the hospitals. No matter where we were, Casper knew where to find us. The routine never faltered: Lisa and Casper would arrive on our floor, Lisa would drop Casper's leash, he'd pick it up with his mouth and trot down the hall toward our room. He just knew.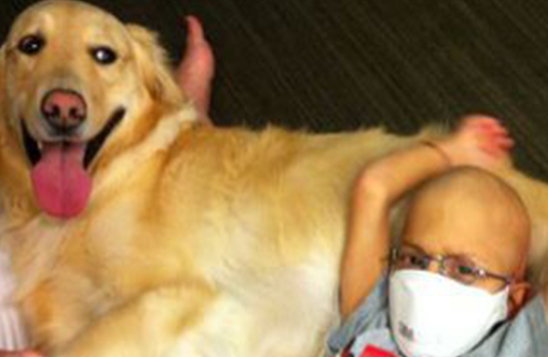 One Christmas morning, Creed was particularly lethargic in the wake of a blood and marrow transplant. Lisa and the Aflac Cancer and Blood Disorders Center staff arranged a special Casper visit, which sparked the only smiles we saw that day. Nothing in the world made my child feel better than that dog.
During another stay, Creed was in pretty bad shape and hooked up to one of those dialysis machines that is just plain scary to look at—lots of wires and foreign noises. Casper knew exactly how to navigate the wires. He'd nuzzle into the perfect spot in Creed's bed and lay with him for hours. Creed would rest his hand on him, or rub him with his foot.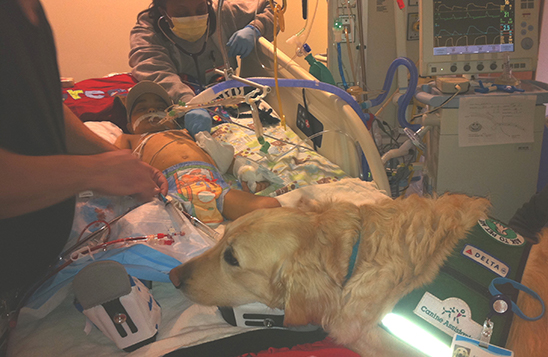 Casper was probably—make that definitely—Creed's favorite thing in the world. On the day of his Flashes of Hope photo shoot, Creed kicked me out of the shot so that he could have his photo with Casper. And I was perfectly fine with that!
When Casper needed to go to the vet for his annual check-up, Creed insisted on going. In his heart, he believed Casper needed him just as much as he needed Casper. As the vet examined Casper's ears, Creed asked the vet to be as quick as possible.
Throughout the exam, Creed comforted Casper with a soft patting motion up and down his back.
As Creed got sicker, their bond grew stronger.
In the spring of 2011, we almost lost Creed twice in one day. We called upon family to come say their goodbyes, including Lisa, her husband John and Casper. I laid in bed with Creed for four or five hours that day. Shortly after Casper came in the room, I told Creed that "Caspy" was with him. Casper softly jumped into the bed, and I put his paw in Creed's hand. Shortly thereafter, Creed's arm started to move. He was moving! I yelled for someone to get his doctor. Then I witnessed what I know in my heart was a miracle: Creed opened his eyes and clenched Casper's paw. A nurse who was in the room with us said, "That dog just brought that boy back to life." And she was right.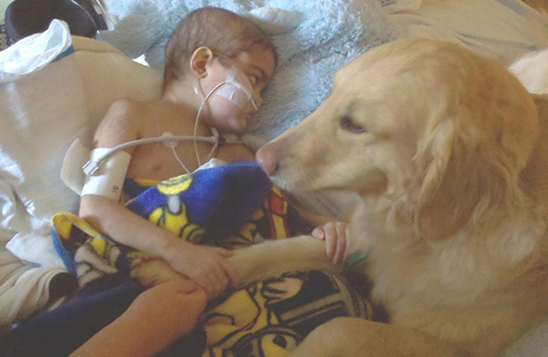 Another time, Creed needed a bone marrow biopsy but his blood pressure was too high and his heart rate too low to begin the procedure. Then along came Casper. Within moments of him entering the procedure room, Creed's heart rate picked up and his blood pressure dropped. He drifted into sedation with his head resting on Casper's back. For 10 minutes, Casper lay perfectly still as they began the bloodwork. He just knew.
When he arrived at the door to our room on April 15, 2012, Casper walked slowly to the side of Creed's bed, bowed his face and never looked up. It was the first time he did not jump right into bed with Creed. It was also just after Creed had gained his angel wings. He just knew.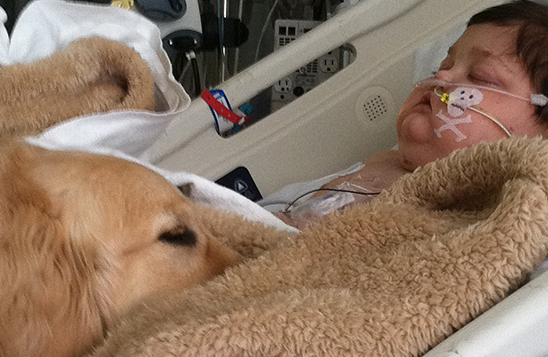 The afternoon of Creed's services, Lisa called with news that brought light to a very somber day: A litter of four Canine Assistants puppies entered the world not long after Creed's passing. And, they were naming each puppy in honor of Creed: Creed, Doc, Faith and Mercy.
It warms my heart to think of all the joy those dogs will bring to so many people—not to mention my family. I still visit Casper and Lisa often. The best part of any day or week or month is when I get to love all over Casper. And Creed is always right there with us. I just know it.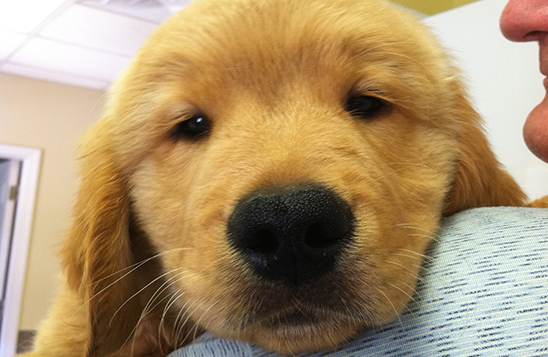 After more than nine years of helping kids through everything from needle sticks to MRI scans, Casper retired in November 2018. The legacy of our first facility dog—make that "pawtriarch"— lives on through our Canines For Kids Program, which now includes more than a dozen full-time facility dogs at Children's Healthcare of Atlanta. Casper also paved the way for facility dogs at hospitals all over the country.