Posted on 8 Jun 2017
Molly and I received the news from our adoption agency that we'd been matched with a little girl from China. We opened her profile and saw that beautiful face looking back at us. We wanted to scoop her up right then and hold her, but she was on the other side of the world. All we had was a picture. So we hugged each other instead.
Even just looking at a photo, I instantly felt a connection. This little girl we would name Hattie was our daughter. There was never a doubt. Molly said, "Look. She smiles with her eyes." She had told me the same thing on our second date. Hattie was born with a cleft lip and palate, just like me.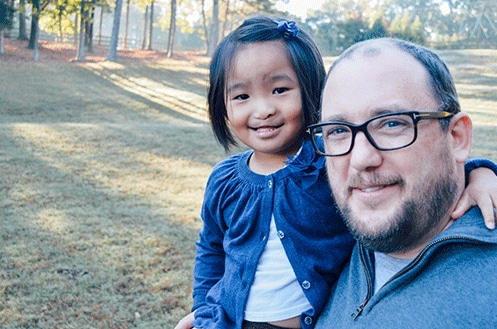 "Look. She smiles with her eyes."
Later that night my thoughts turned to my memories of growing up and my own treatment at Children's Healthcare of Atlanta. Endless evaluations and appointments. Speech therapy. Kids asking, "What's wrong with your face?" The nurses helping a scared little boy feel big and brave. And the doctors helping a self-conscious kid feel comfortable in his own skin.
I knew what was in store for Hattie. I knew that I could help. I couldn't keep her from having to go through any of it, but I could be there for her. I could say, "Daddy went through that, too. And here I am, smiling at you, proof that it all turns out okay in the end."
We spent 10 months looking at her pictures and counting down the days till we could actually hold her. But once we brought her home, we were all smiles—and so was she. She would laugh uncontrollably while being pushed in a swing or while being bathed in the tub. Her smile was like a sunrise.
Soon enough it was time for Hattie's surgery and I found myself back at Children's—this time, with my sweet, precious Hattie. She was being wheeled into the operating room instead of me. I was sleeping on the sofa at night instead of my dad.
The nurses were still buzzing around, still making scared kids feel brave. And the doctors were still there to do for Hattie the same thing they did for me—make her comfortable in her own skin.
The first time I looked at Hattie's picture, I saw myself in her. But I was giving myself too much credit. She is tougher than I ever was.