From Diagnosis to Discovery
By: Rachel Turner, Mom

When he was 18 months old, I began to notice my son, Wesley, standing about an inch away from license plates, studying the numbers and letters. At the park, he was mesmerized with the playground rules sign, and I have many pictures of him studying a "Lifeguard Not on Duty" sign at our neighborhood pool. We thought it was quirky … amusing, even.

There were other signs, of course. Individually, these signs meant very little, but when we added them together, there were bigger implications.

I remember the day I started to put it all together. As I Googled, my fears morphed into potential reality and the tears began to fall.

At age 2, Wesley was diagnosed with autism at Marcus Autism Center. I was devastated.

I wish I could go back and tell that terrified mom that it was going to be OK and that the devastation she felt would soon be replaced with bravery. But she'd have to take that journey on her own.

Dr. Christine Hall gave us the tools we needed to help process a disorder we knew little about. We learned that our son wasn't deficient and there was nothing "wrong" with him. Dr. Hall was the first person who celebrated how our son's mind worked.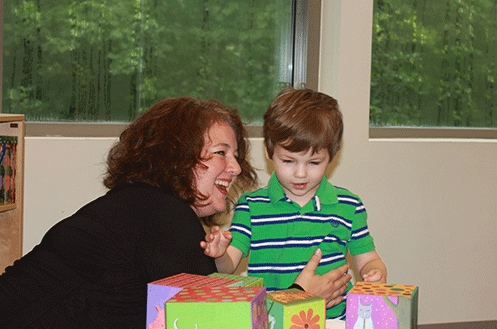 We learned that our son wasn't deficient and there was nothing "wrong" with him.
It took me a year to work through how to celebrate who he is while finding interventions to help his challenges. The marrying of those two concepts—accepting autism while fighting autism—didn't make sense to me. But thanks to wonderful and accessible staff, we were optimistic as we increased our education.

Wesley today is no different than the Wesley I held in my arms in the hospital after he was born. We've just had the pleasure of getting to know him better. Along the way, I've come to understand a disorder that, quite frankly, used to scare the hell out of me.

My kids are individuals with their own strengths and weaknesses. My job is to help them unlock the people they were designed to be. I'm here to teach them about life, lead them to a loving God and keep them from juggling knives! I'm here for them as they grow up in a world that is strange, confusing, cruel and wonderful—and help them understand they are a contributor to it, not a victim of it.

While autism is a spectrum, the love of the parent with a child with autism is not a spectrum. The trajectory of all of our children's lives has to be their own. That journey may look extraordinary. It may look ordinary. That journey may look strange or sad to others. But whatever form it takes, the potential to do great things is not something that can be measured by anyone.

On the day Wesley was diagnosed, I was told to not put any limits on what my little boy could do. I'm glad I followed that advice.

We've now participated in a research study, taken advantage of several educational classes with our extended family and are beginning our journey as students of the language and learning clinic.

Our little family has come so far. I hate to think about where we would be right now had it not been for Marcus Autism Center.

If you have stumbled upon this blog because your child was recently diagnosed with autism spectrum disorder, know that there is a very bright light at the end of the tunnel you've just entered—and it's closer than you think.

In 2016, the diagnostic team at Marcus Autism Center grew to include many new providers, bringing in experts that span a variety of different medical and behavioral specialties. This has allowed for multi-disciplinary evaluations drawing from the fields of psychology, neurology, developmental pediatrics, psychiatry and genetic counseling. Having a team of experts from across disciplines allow us to customize the diagnostic process to meet the needs of each individual child.