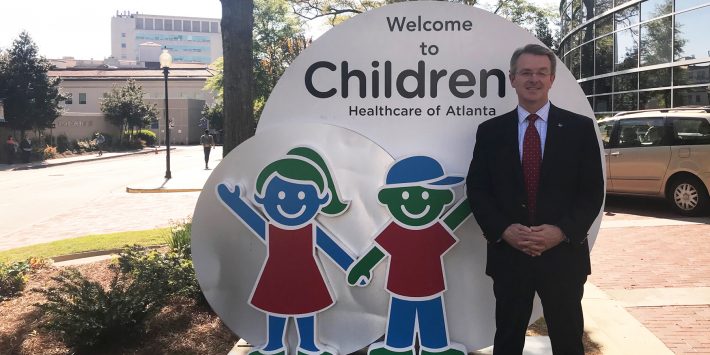 ATLANTA (May 9, 2018) – Click here to listen to Dr. Frias' interview. The interview begins at the 36:50 mark.
Dr. Patrick Frias, Chief Operating Officer of Children's Healthcare of Atlanta, recently shared details on why Children's is expanding and the future of pediatric care during an interview with WABE's Closer Look host Rose Scott.
As Scott and Dr. Frias walked the halls at Egleston, he explained to Scott that his background as a physician provides a unique perspective and insight into his role and why the replacement hospital at North Druid Hills is so important. In planning for the new campus, Dr. Frias noted that Children's gathered feedback from key stakeholders, the community and most importantly – its patients.
"The [North Druid Hills] campus allows us to build for our generation, and just as importantly, to plan for the next generation," said Dr. Frias.
Scott asked Dr. Frias: "If there's a message to the community about what you all are doing and why this expansion is so important, what would you tell them?" His answer is simple: we are here to make kids better today and healthier tomorrow.
Additional information about the North Druid Hills campus can be found at www.choa.org/breakingnewground.