How to Safely Swaddle Your Baby
It's hard out there for a newborn: bright lights, new sensations, flailing limbs. Swaddling, or wrapping a baby snugly in a blanket or cloth, is a time-honored technique to mimic the security of the womb—but proper technique is essential to keep your baby safe.
Swaddling has many benefits: The cocoon-like wrap keeps babies calm and soothed. It prevents jerky limbs from triggering their startle reflex and disrupting sleep. It also provides warmth when newborns may not be able to regulate their own body temperatures.
To prevent sudden infant death syndrome (SIDS), babies should always sleep on their backs on a firm surface—a position that does not come naturally to newborns. "A swaddle will keep them comfy while keeping them safely on their backs," says Tim Schrader, MD, an Orthopedic Surgeon at Children's Healthcare of Atlanta.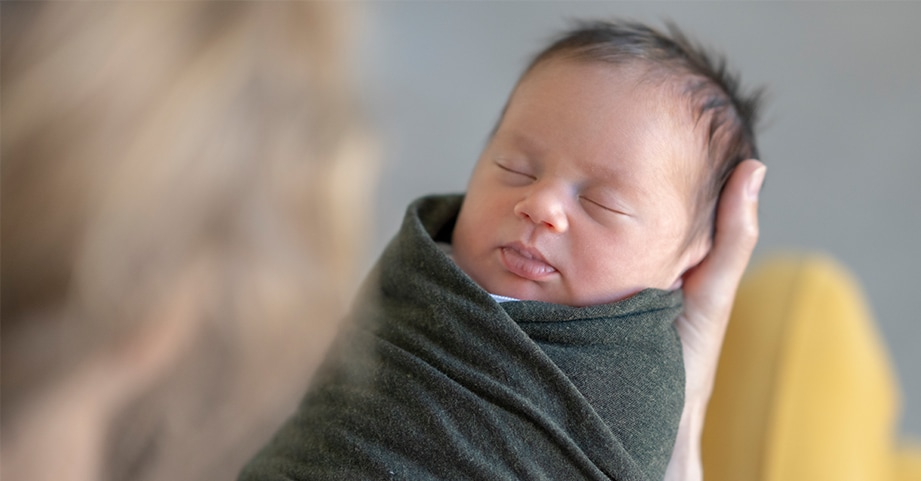 Some parents prefer ready-made swaddles with Velcro or snaps, while others find that a simple blanket in a breathable material (like muslin) gets the job done. Just remember not to wrap your baby with his legs straight and pressed together. A newborn's hip joints are not strong enough to hold an extended position.
How to do a blanket swaddle:
Lay a blanket on a flat surface in the shape of a diamond. Then fold the top corner down to make a straight edge.
Place your baby on the blanket with his shoulders even with the top edge.
Place your baby's arms together on his chest under her chin.
Wrap one side of the blanket over his chest. Then tuck the blanket under the side of your baby.
Then do the same on the other side. Wrap the side of the blanket over his chest. Then tuck the blanket under the side of your baby.
Twist or fold the bottom corner of the blanket, and tuck it under your baby. Make sure to leave room for his legs and hips to move up and out.
Incorrect swaddling can lead to developmental dysplasia of the hip (DDH). If this happens to your baby, our hip specialists can provide treatment that will make sure your baby's hips grow strong and healthy.
Breaking Down the Basics of Swaddling
How to swaddle your baby safely

Here is our step-by-step tutorial, plus tips for keeping your baby snug and safe.

Key benefits of swaddling your baby

Learn the benefits of swaddling and why it is important to swaddle your baby correctly.
Now that you know the basics, keep these important tips in mind to keep your baby safe and sleeping well:
Always place your baby on his back to sleep, whether in a swaddle or not.
Don't swaddle your baby too loosely, as the blanket could come undone and cause suffocation.
Overheating increases a baby's risk of SIDS. Use lightweight pajamas under a swaddle.
You might swaddle your baby for several weeks or several months. When he starts breaking free of the blanket or trying to roll over, it is time to stop swaddling.
Swaddling can be tricky at first—especially when your brand-new bundle is kicking and screaming—but just like diaper changing, prepping a bottle and burping, it will soon become second nature. There's no better reward than a safe, sound sleep.
Answers to All Your Newborn Care Questions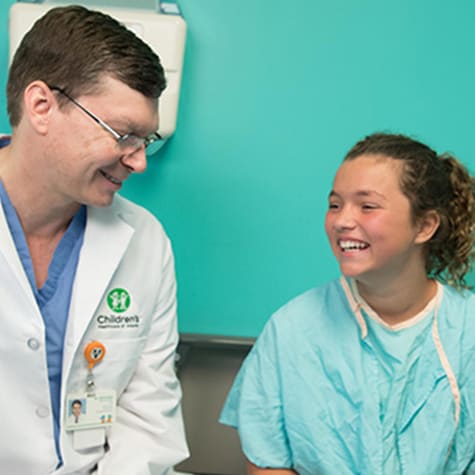 Hip Care for Kids
We are specially trained to care for common and rare hip conditions.
Left untreated, hip conditions in children can lead to serious problems later. Our team of orthopedic specialists is trained to recognize and treat hip conditions early.
See More
Tim Schrader, MD, is the Medical Director of the Children's Hip Program. Combining the training he received at Harvard Medical School (working with Dr. Michael Millis and Dr. Young-jo Kim) and the Müller Foundation in Switzerland (working with Professor Reinhold Ganz), Dr. Schrader developed a special interest in pediatric, adolescent and young adult hip preservation and hip problems, including hip dysplasia. Dr. Schrader is the only International Hip Dysplasia Institute (IHDI) provider in Georgia. IHDI physicians are those who participate in IHDI efforts with contributions above and beyond direct patient care for the advancement of hip dysplasia advocacy, research and education.
This content is general information and is not specific medical advice. Always consult with a doctor or healthcare provider if you have any questions or concerns about the health of a child. In case of an urgent concern or emergency, call 911 or go to the nearest emergency department right away. Some physicians and affiliated healthcare professionals on the Children's Healthcare of Atlanta team are independent providers and are not our employees.