In Georgia, about 1 in 10 children under age 18 has asthma—one of the highest rates in the nation—and it leads to more than half a million missed school days annually across the state. Asthma is also the No. 1 reason kids are admitted to Children's Healthcare of Atlanta. It's important to understand what your child's early warning signs are, what triggers his asthma attacks, the types of medications he should take and how to create an asthma action plan.
Asthma Resources for Parents
Asthma is a chronic lung condition affecting tubes called airways. These tubes carry air in and out of the lungs. In a child with asthma, airways react to certain triggers, causing:
The airways to swell.
Thick, sticky mucus to fill the airways.
The muscles that wrap around the airways to squeeze tight.
Although asthma can't be cured, it can be managed. If not well managed, it can result in emergency department visits and threaten your child's life.
Asthma attacks happen when the airways in your child's lungs are bothered by an asthma trigger. Each child's asthma triggers are different. It's important to know your child's asthma triggers so you can avoid them when possible.
Common asthma triggers include:
Pollen
Seasonal allergies
Cold
Flu
Weather
Roaches and pests
Molds
Air pollution Smoke
Dust mites
Exercise
Pets and animals
Odors
Exposure to violence
Strong emotions and stress
To learn more about how to help your child avoid asthma triggers:
Download the asthma triggers PDF (en Español)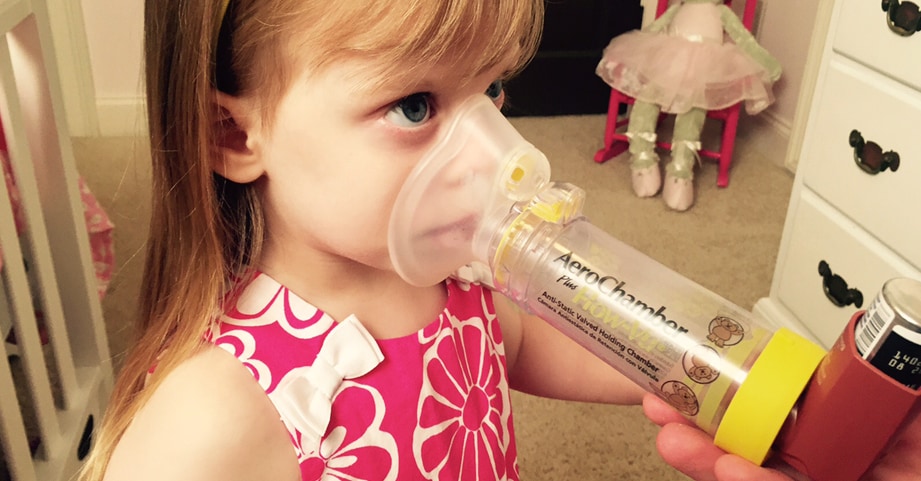 We can help you stay in control of your child's asthma. Our asthma team is specially trained to care for kids and teens who have asthma and breathing problems.
We help kids manage symptoms so that they can live full, active lives. That means less down time and less time away from school.
We have a comprehensive team—doctors, nurses and educators—who will design a personalized asthma care plan for your child.
We have special diagnostic tools to measure a child's lung capacity and function.
We also offer:
Allergy testing, evaluation and allergy shots.
Asthma control tests at every visit.
Communication with primary care physicians to coordinate care for best asthma management.
Access to an after-hours, on-call asthma physician.
Education for each patient's family and school staff.
Partnerships with asthma-related community wellness programs.
A High-Risk Asthma Program to provide closer monitoring and care to patients who have severe asthma.
Make an Appointment
Schedule an appointment with our asthma specialists
Contact your child's pediatrician to request a referral before scheduling an appointment with one of our specialists.
Appointments
In addition to taking prescribed medications, there are a number of ways parents can help a child prevent asthma attacks.
Have an asthma action plan
Written by your child's doctor, an asthma action plan offers steps to treat your child when he is experiencing signs of asthma. Make sure your child's teachers, coaches and caregivers have a copy of this plan. It will help them understand how to recognize and handle an asthma attack. We also provide asthma equipment, such as spacers and nebulizers, to school nurses in Atlanta for students who have special medical and financial needs.
The asthma action plan should include:
Your child's prescribed controller and quick-relief medications
What to do when your child is having an asthma attack
How to identify warning signs of an asthma attack
Your child's asthma triggers
Emergency contact information
Guidelines for treatment before activity
Download the asthma action plan for:
Encourage activity and exercise
Exercise is important for all children and teens, including those with asthma. With the right treatment and planning, your child can be active at home and school.
If your child is going to be participating in any activities, let teachers, coaches and caregivers know your child has asthma, and make sure they all have a copy of his asthma action plan. Your child should:
Always have quick and easy access to asthma medications.
Pre-treat with a quick-relief inhaler with a spacer 15 to 20 minutes before exercise if that is part of the asthma action plan.
Warm up and cool down for 10 minutes before and after exercise.
Drink plenty of water before and during exercise.
Stop activity if you see any early warning signs or if your child reports early warning signs. Signs can last for a few minutes to more than an hour. If this is the case, let your child play a board game, walk or do other relaxing activities. Use his quick-relief medications or seek medical help if the warning signs do not go away.
Know the early warning signs
Signs that your child may be having asthma problems include:
Chest tightness
Coughing
Difficulty doing most physical activities
Trouble breathing
Wheezing
Community outreach
The best way to fight asthma is through a community approach. The Children's asthma team works with many community groups and programs to help care for children with asthma where they live, learn and play. To learn more about our community outreach programs, contact Sydney Trapp at 404-785-7240.
Education
We provide on-site and web-based asthma education to:
School staffs
Parent groups
After-school programs
Other healthcare professionals School nurses and clinic workers
Childcare centers
Primary care physician offices
Community groups
Ronald McDonald Care Mobile
Starting in the fall of 2016, the Children's asthma team and Ronald McDonald House Charities began collaborating to provide asthma care at select schools in metro Atlanta. The Ronald McDonald Care Mobile helps address barriers to care, such as transportation, by bringing a 40-foot vehicle with exam rooms, medical supplies and equipment similar to a doctor's office to these schools. Services are provided to children during school hours.
Learn more about the Ronald McDonald Care Mobile
Pediatric pulmonologists
Pediatric allergists and immunologists
Environmental pediatrician