Posted on 21 Feb 2017
This content has been clinically reviewed by Maneesha Agarwal, MD.

Baby-proofing the house should start well before you bring home your new little bundle of joy, and continue even after he's gotten older.
Where to start? On the floor.
From this vantage point, you'll be able to see all sorts of things that could be harmful to a crawling baby, including and especially home electronics. You'll notice those electrical outlets. Cords dangling from televisions and computers. A shiny button battery on the floor. And if you look up, you'll likely see televisions precariously perched on dressers and entertainment centers.
Accidental injuries, including those caused by TVs, cords and outlets, are the leading cause of death in kids up to 14 years of age, and more than one-third of these injuries occur at home.
Keep an eye out for these danger zones when injury-proofing your home.
Electrical Outlets
Babies and small children love to stick their fingers, and objects like silverware, keys and dropped bobby pins into unprotected electrical outlets, risking electric shock or burns. And according to the National Fire Protection Association, about 2,400 of those children suffer severe injury each year from doing so.
Thankfully, these injuries are preventable, and there are several inexpensive ways to keep your kids safe:
Cover outlets with tamper resistant (TR) receptacles. These spring-loaded shutters close off the contact openings in electrical outlets. Since 2008, new houses have been required to have these installed.
You can also purchase plastic plugs for unused outlets. These must be pried out every time you use an outlet. Just make sure you don't leave them lying around – they're choking hazards.
You can also purchase electrical outlet covers that sit on top of your existing outlets.
Power Cords
Power cords within the reach of little hands present a serious risk of injury. Babies can strangle on those that hang; they can also pull objects onto themselves, or grab and chew cords left on the floor, potentially resulting in electric shock or burns.
To prevent this, simply move your furniture in front of cords and outlets to prevent access. You can also buy a cord shortener, which wraps the cord inside, preventing a child from wrapping it around his body.
If you have to use a power strip, make sure to buy a child-proof strip cover.
Also, make sure your baby or toddler can't reach the cord of his audio or video safety monitor from his crib. Monitors should stay at least three feet away, and never be placed inside the crib with your baby.
Button Batteries
Remote controls, watches, cameras, many games and toys—they're all powered by small, coin-shaped button batteries that are shiny and all-too-appealing to toddlers. These can be deadly when swallowed, and can also cause serious harm when lodged in the ear or nose.
Sadly, more than 3,000 button batteries are ingested by kids each year in the United States, and the problem is growing as an increasing number of home electronics are powered by them.
Button batteries are a choking hazard for toddlers, and can cause life-threatening internal injuries in just two to three hours if they get lodged in a child's digestive tract. The higher the voltage of the battery, the faster the injury. And since a button battery stops powering a device long before it runs out of charge, even a "dead'' battery is dangerous.
So how do toddlers get their hands on these batteries? Sometimes the batteries simply fall out when a device like a remote control is dropped. They can also end up on the floor when a new battery is being put in to a device—and then found by a crawling toddler. Curious toddlers can also open the compartments that are supposed to keep these batteries secure.
To protect your kids:
Dispose of used batteries properly.
Make sure your electronics require a screwdriver or other tool to access button batteries. If not, tape them shut with heavy duty tape.
Keep loose batteries and electronics out of reach of unsupervised children.
If you find a toy or electronic device with a missing battery or suspect (even if you're not sure) that your child has swallowed a battery, take your child to the emergency room immediately.
And be aware that not all children show symptoms after ingesting a button battery, although some include:
Nausea and vomiting
Fever
Coughing
Abdominal pain
Trouble breathing
Diarrhea
Discolored or bloody stool
Irritability
Throat pain
Refusal to eat or drink
Televisions and Appliances
Babies can start crawling as early as 6 months, and shortly after that begin pulling themselves up or climbing on furniture, which can lead to tip-over accidents. A typical scenario is a dresser with a TV on top. A child opens the drawers and climbs up them, trying the reach the television. The dresser and/or television then fall onto him.
According to the U.S Consumer Product Safety Division, one child dies roughly every two weeks in the U.S. when a television, a piece of furniture or an appliance topples over. About 70 percent of the fatalities involved falling TVs and furniture.
To prevent these tragedies:
Anchor flat-screen TVs to the wall. If your TV is on a stand, it should still be secured. Follow manufacturer instructions to do this properly.
If you have a large, older tube TV, place it on a low, stable piece of furniture, and anchor it to the wall.
Anchor dressers, bookshelves, changing tables and desks and other large furniture to the wall using brackets, braces or wall straps. New dressers are often sold with anti-tip brackets to secure them to the wall. You'll need at least two anchors for each piece of furniture.
Don't assume that heavy furniture is safe—when a child opens drawers and crawls on them, even sturdy furniture can tip over.
Anchor furniture in all rooms of the house—not just children's rooms. Tip-over accidents can happen in any room, even one that you don't think your child will play in.
Install stops on dresser drawers to keep them from being pulled all the way out, since multiple open drawers can cause the weight to shift, making it easier for a dresser to fall.
Avoid placing remote controls, food or toys on top of TVs, where kids might be tempted to climb for them.
Install anti-tip brackets on freestanding kitchen ranges and stoves.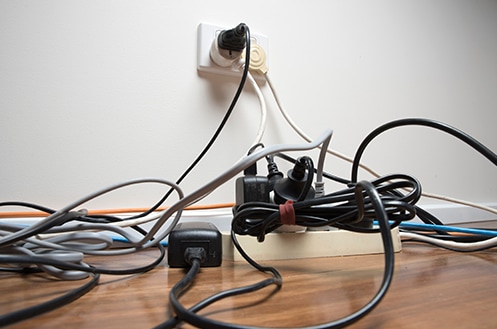 Accidental injuries, including those caused by TVs, cords and outlets, are the leading cause of death in kids up to 14 years of age, and more than one-third of these injuries occur at home.
Small Appliances, Space Heaters, Blow Dryers and Other Electronic Grooming Tools
Rushing around in the morning, trying to get yourself and your kids ready on time means it's easy to forget about small appliances like space heaters and blow dryers, curling irons and electric shavers. So always make it a point to make sure they're unplugged and out of reach of little hands.
This is particularly important in places where children are sitting or standing in water—such as a sink or bathroom—since electrocution can occur when electricity makes contact with water.
Get into the habit of unplugging bathroom appliances after use, as well as toasters and other small appliances in the kitchen. And don't allow the use of space heaters in the bathroom, where there's often water on the floor.
Finally, even if you've baby-proofed your home, always supervise children. Because your mother was right: Accidents can happen in the blink of an eye.
For more tips on keeping your kids safe and injury-free, visit Safe Kids Georgia, the injury prevention arm of Children's Healthcare of Atlanta. Through their statewide network, Safe Kids educates families and the community on childhood injury prevention best practices.
Additional medical review for this content has been provided by Seema Csukas, M.D., Ph.D., Medical Director of Maternal and Child Programs at the Georgia Department of Public Health.
This content is general information and is not specific medical advice. Always consult with a doctor or healthcare provider if you have any questions or concerns about the health of a child. In case of an urgent concern or emergency, call 911 or go to the nearest emergency department right away. Some physicians and affiliated healthcare professionals on Children's Healthcare of Atlanta team are independent providers and are not our employees.