Posted on 21 Feb 2017
This content has been clinically reviewed by Lauren Sullivan Middlebrooks, MD.
It's many parents' worst nightmare, and one we confront frequently on the news during summer months: another child tragically dies or is harmed as the result of being left inside a hot car.
Some statistics estimate that, on average, one child has died every nine days from vehicular heat stroke since 1998, making it one of the leading causes of death among children (87 percent of hot car deaths occur in little ones under the age of 3, putting younger children in particular at higher risk).
So how does this happen? And how can we as parents and communities protect our children from such a tragedy?
Many parents can't imagine ever accidentally leaving their child locked in the car, but it's easier to do than you think. Any single change in your daily routine can increase your chances of making this dangerous mistake. This holds doubly true for non-related caregivers whose first instinct may not always be to check for children before getting out of the car.
How Hot Is the Inside of Your Car?
Because a car is essentially a greenhouse when it sits in the sun, all it takes is a mere 10 minutes for the temperature inside to climb to dangerous levels. This means that even a quick run back into a store or back in the house can put your kids at risk.
On a comfortable 70-degree day, the inside of a car parked in the sun can reach upwards of 100 degrees after 30 minutes. Left for an hour, the inside of the car is now upwards of 110 degrees. In the dead of summer in the South, when temperatures can reach 80 to 100 degrees outside, a car's internal temperature can climb to staggering temperatures between 130 and 172 degrees.
A child can die when her body temperature reaches 107 degrees, making a pleasant 70-degree afternoon potentially life-threatening. Since kids are much less able to regulate their internal temperature than adults, your child's core body temperature climbs 3 to 5 times faster than yours.
Also important to note: Leaving the window slightly cracked makes virtually no difference in the temperature inside a car. Your kids are still at risk with the windows slightly rolled down.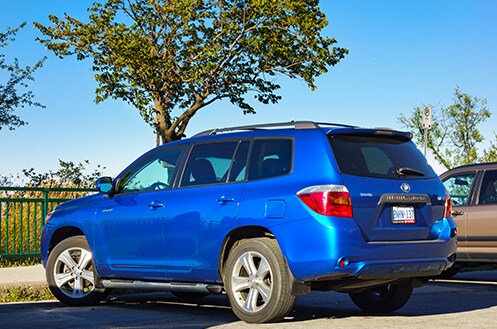 On a comfortable 70-degree day, the inside of a car parked in the sun can reach upwards of 100 degrees after 30 minutes.
Keeping Our Smallest Passengers Safe
These simple tips can help prevent tragic vehicular heat stroke in children, and should be kept in mind any time your child is in the vehicle with you or someone else.
Check and double-check the back seats before getting out and locking the car ("look before you leave")
Have some type of visual cue to remind you when your child's in the back seat–a toy, stuffed animal or piece of clothing that you keep in the child's seat when they aren't in the car with you, that you move to the front seat when you put them in the car
Keep something important that you need in the back seat – phone, purse, lunch, work ID – something you would notice immediately that you forgot
Keep the car locked at all times to prevent children from potentially finding their way in without you noticing (and keep keys out of the reach of little hands)
Remind caregivers to check any time they get out of the vehicle, and always call to check that your child's arrived safely at his or her destination
If you see a child unattended in a hot car, don't wait for more than a few minutes before taking action. Call 911 right away.
Also, keep an eye out for the signs below, which could indicate that a child is experiencing heat stroke:
Skin that is red, hot, moist
Excessively dry, flushed skin with no sweat
Dizziness
Headache
Rapid pulse or slow, weak pulse
Strange behavior
Nausea
Restlessness or Fatigue
Mental confusion
Remember Your Pets, Too
Our four-legged friends are susceptible to vehicular heat stroke, too. Dogs and cats don't sweat like humans, and leaving an animal in a car, even with the windows cracked, even when it isn't that warm out, can seriously harm an animal – leading to brain damage, coma or death.
This content is general information and is not specific medical advice. Always consult with a doctor or healthcare provider if you have any questions or concerns about the health of a child. In case of an urgent concern or emergency, call 911 or go to the nearest emergency department right away. Some physicians and affiliated healthcare professionals on Children's Healthcare of Atlanta team are independent providers and are not our employees.