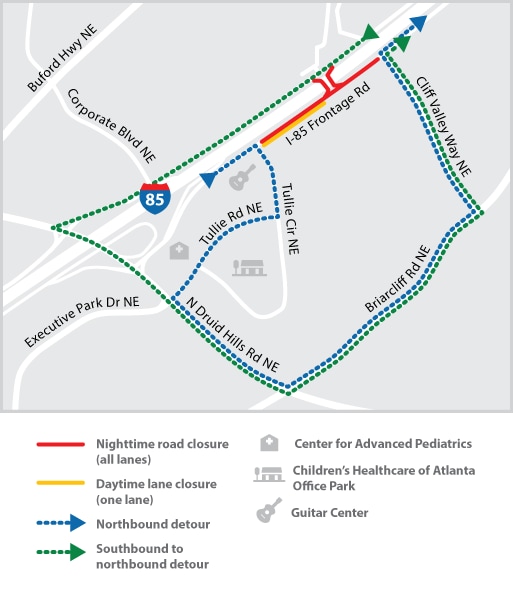 ATLANTA (October 25, 2018) – As we progress on construction for the Children's Healthcare of Atlanta North Druid Hills campus, we wanted to alert you of temporary road closures and construction impacts in the surrounding area.
Over the next few months, the northbound lanes on the Interstate 85 Frontage Road/Northeast Expressway between Tullie Circle and Cliff Valley Way NE will be impacted due to necessary infrastructure upgrades being completed for our campus and other nearby businesses.
Daytime Lane Closure
One northbound travel lane between Tullie Circle and the underpass will be closed for power infrastructure upgrades starting Monday, October 29 through Friday, January 18.
Construction will occur on weekdays between 7:30 a.m. and 4 p.m.
We do not anticipate weekend work at this time, and the affected lane should be open for travel during non-construction hours except when impacted by the nighttime road closure listed below.
Nighttime Road Closure
All northbound lanes on the frontage road between Tullie Circle and Cliff Valley Way NE – including the underpass linking both sides of the Northeast Expressway – will be closed each evening for construction (except Fridays and Saturdays) starting Monday, October 29 through Sunday, November 18.
Work hours are from 7 p.m. to 5 a.m. on Sunday through Thursday nights.
During work hours, traffic will be redirected via Tullie Circle to Cliff Valley Way NE for a detour. Extensive signage will be on site to direct traffic around the area.
We appreciate your patience as we work as quickly as possible to make the necessary improvements to this area, so we can make room for construction on our new hospital in 2020.
Additional information can be found at www.choa.org/breakingnewground.